Poster Exhibition | The 12th Annual Postgraduate Research Conference 
Katie Thompson, PhD student in the Faculty of Science & Technology with this poster entitled:
Impacts of African savanna elephants (Loxodonta africana) on large trees within a small, fenced reserve in South Africa.
Click the poster below to enlarge.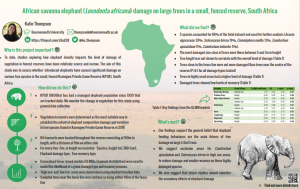 African savanna elephants (Loxodonta africana) can have detrimental impacts on trees due to their feeding habits including debarking, uprooting, and breaking branches off trees. The aim of this study is to assess whether introduced elephants have caused significant damage on various tree species in the small fenced Karongwe Private Game Reserve (KPGR). Thirty-two different tree species were recorded, with 5 species accounting for 80% of the total dataset and used for further analysis. Tree height was not shown to correlate with the overall level of damage. Trees close to the fence line were not more damaged than trees near the centre of the reserve. However, trees in highly used areas had a higher level of damage; these damaged trees showed low levels of recovery. We suggest exclusion areas for Combretum apiculatum and Sclerocarya birrea in high use areas, to reduce damage and enable recovery on these highly damaged species.
You can view the full poster exhibition on the conference webpage.
---
If this research has inspired you and you'd like to explore applying for a research degree please visit the postgraduate research web pages or contact our dedicated admissions team.