This is another post related to UK's participation in EU Horizon Europe (HE) Framework Programme.
As mentioned earlier, based on UK-EU Trade and Cooperation Agreement, the UK will be HE Associated Country. This association will ensure that UK and EU entities participate in Horizon Europe Programme on equivalent terms.
Similarly as for previous EU Framework Programme Horizon 2020, research activities in Horizon Europe are structured under 3 pillars. However, there are some differences; as they say – 'no revolution but evolution':
Pillar 1 – Excellent Science
Pillar 2 – Global Challenges and European Industrial Competitiveness
Pillar 3 – Innovative Europe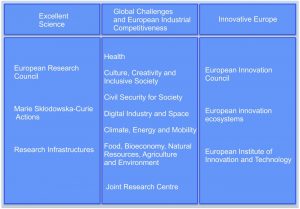 In the picture above, you can see that all themes we knew as 'Societal Challenges' in Horizon 2020 have been moved under Pillar 2 and integrated with ICT, NMBP and space topics – this seems to be the major change; there are more, however I will leave them unexplored for now.
So, most of collaborative research projects BU academics may be interested in lay under the second pillar in Horizon Europe. Those are grouped in clusters and Work Programmes for each of these clusters have been drafted.
I will continue these series of blog posts about HE providing more details regarding topics and expected opening of HE calls (first calls are expected to be open in March/April).
There will be funding briefing for BU academics on Wednesday 3 February at 12pm led by RDS Research Facilitators.
This week's spotlight topic will be MSCA Individual Fellowships. It should be useful for those academics who wish to submit applications this year and also those who are not familiar with MSCA funding scheme. Feel free to join this weekly event on MS Teams.
Just as a reminder – with enquiries regarding international funding opportunities and questions related to EU, especially Horizon Europe, funding contact me – Research Facilitator International Ainar Blaudums.