The 13th Annual Postgraduate Research Conference, hosted by the Doctoral College.
Megan Jadzinski (PhD, FHSS) with this poster entitled: How are Fitness to Practise processes applied in the Higher Education Institutions, in relation to Health and Care Profession Council or Nursing and Midwifery Council healthcare courses?
Click the poster below to enlarge.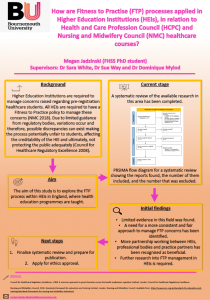 Higher Education Institutions (HEIs) are required to manage concerns raised regarding pre-registration healthcare students. All HEIs are required to have a Fitness to Practice (FTP) policy to manage concerns. Due to limited guidance from regulatory bodies, variations occur. The aim of this research is to understand how the FTP processes are applied. A qualitative methodology will be utilised. Two stages will occur. Firstly, a review of FTP documentation from multiple universities. Secondly, online interviews with HEI staff who manage the process within their organisation. Following a systematic review, limited evidence was found with recommendations that further exploration is required. Limited research has been conducted on the FTP process within HEIs in England. Multiple gaps, including, a need for a more consistent and fair approach has been identified. The output from this research could impact the way in which FTP cases are managed.
---
You can view the full poster exhibition and pre-recorded presentations on the conference webpage.
If this research has inspired you and you'd like to explore applying for a research degree please visit the postgraduate research web pages or contact the Doctoral College dedicated admissions team.