Congratulations to BU's interdisciplinary nutrition-behavioural sciences team that published the recent review "Barriers and Facilitators Associated with the Adoption of and Adherence to a Mediterranean Style Diet in Adults: A Systematic Review of Published Observational and Qualitative Studies" [1] in the journal Nutrients.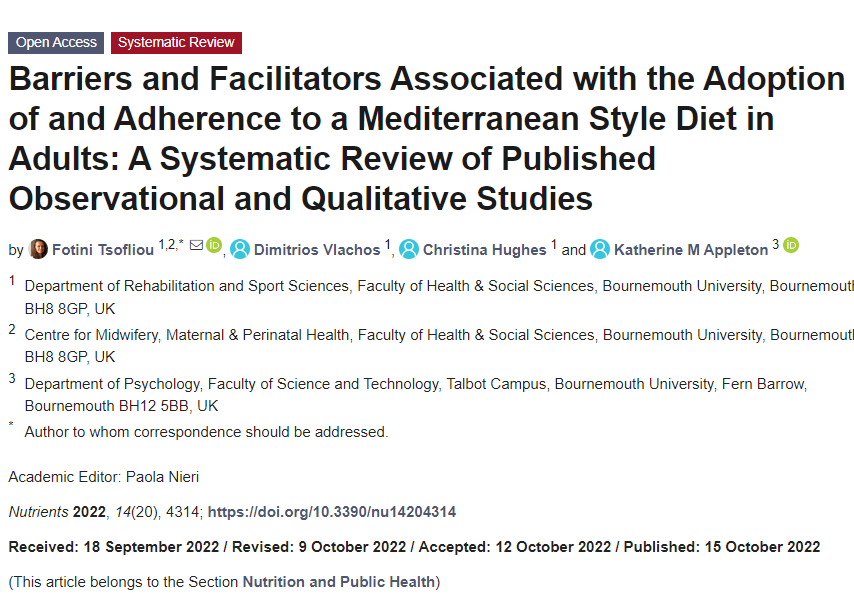 The academics are based in two different faculties, namely the Faculty of Health & Social Sciences and the Faculty of Science & Technology, represented by Dr. Fotini Tsofliou and Prof Katherine Appleton respectively.  Two BU students (recently graduated) are also two co-authors: Dimitrios Vlachos (who completed the MRes) and Christina Hughes (MSc Nutrition & Behaviour).
This review which is Open Access includes all studies investigating barriers or facilitators to adopting or adhering to a Mediterranean style diet in adults aged 18 years old and over.  The paper identified  financial, cognitive, socio-cultural, motivational, lifestyle, accessibility & availability, sensory and hedonic and demographic factors. Similar barriers and facilitators are often reported in relation to healthy eating or the consumption of specific healthy foods, with a few exceptions. These exceptions detailed concerns with specific components of the MedDiet; considerations due to culture and traditions, and concerns over a cooler climate. Suggestions for overcoming these barriers and facilitators specific to adoption and adherence to the Mediterranean diet are offered. 
Well done! 

Prof. Edwin van Teijlingen
CMMPH
Reference:
Tsofliou F, Vlachos D, Hughes C, Appleton KM. Barriers and Facilitators Associated with the Adoption of and Adherence to a Mediterranean Style Diet in Adults: A Systematic Review of Published Observational and Qualitative Studies. Nutrients. 2022; 14(20):4314. https://doi.org/10.3390/nu14204314