BU offers a number of innovative internal schemes to support and encourage research and knowledge exchange activity.
Internal funding
BU recognises the importance of investing in research and there are a number of central funds dedicated to supporting BU researchers engage in research activities.
Please note that all open access publishing with Springer Open Choice journals is now free. Please click here for more information.
RKE Development Framework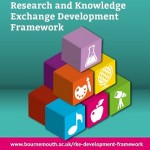 The Research and Knowledge Exchange (RKE) Development Framework offers a range of opportunities for academics at all career stages to develop their skills, knowledge and capabilities in relation to research and knowledge exchange. It has been implemented in response to the changing external environment, and developed in consultation with academic colleagues to ensure a strategic fit between the training and development opportunities on offer, and the needs and wishes of academic colleagues. We trust that the agile and flexible nature of this new framework will appeal to colleagues undertaking research and knowledge exchange activities across the university.
Fast Track Status
This process allows for expedited procedures to operate (within selected KE units) thereby enabling them to operate in a more entrepreneurial manner.
Internal peer review
We have operated an internal peer review scheme for research proposals for a number of years at BU.  It aims to provide you with feedback on your draft proposal to ensure it is as strong as possible prior to submission for funding.  Whilst this service is still available, from 2015, the Faculties all have their own internal peer review procedures, details of which can be found on your Faculties 'Intention to Bid' form.  Please contact your Funding Development Officer for the latest version of the form.  The Faculties can offer internal peer review, mentoring, and/or quality checks before submission of an application.
If you would like to take up the centralised internal peer review scheme operated by RKEO, then please contact Jo Garrad and Dianne Goodman in the RKEO Funding Development Team who manage this scheme and will answer any questions you have
How does it work? You will need to send a Word or PDF version of your draft application (this can be what you've prepared on electronic submission sites such as Je-S) and submit to Jo Garrad and Dianne Goodman; the RKEO FDT will undertake review of the proposal and forward to 2 experts and you will receive feedback within 2-3 weeks.  Peer Reviewers are a selection of BU academics who have a considerable track record in successfully gaining research funding, who sit on funding panels and who review research proposals for funders.  They will provide feedback on the proposed research in terms of topic selection, novel value, clarity of ideas proposed and advise on how the proposal can be further strengthened.  Please allow sufficient time in your proposal development for peer review to take place and to allow for the mandatory internal deadline of five working days for the submission of Research Council bids via the Je-S system and applications made via the E-Gap2 and Leverhulme Online e-submissions systems (affecting applications made to the British Academy, the Royal Society and the Leverhulme Trust).
Undergraduate Research Assistantship (URA) programme
This scheme was launched in 2014-15 and aims to support at least 40 undergraduate students per year to work under the guidance of an experienced academic in a research position that is directly related to their career path and/or academic discipline.