Poster Exhibition | The 12th Annual Postgraduate Research Conference 
Mashael Alsufyani, PhD student in the Faculty of Health & Social Sciences with this poster entitled:
Exploring the Usage of Social Media by Female Saudi Nursing Students for Personal and Academic Purposes.
Click the poster below to enlarge.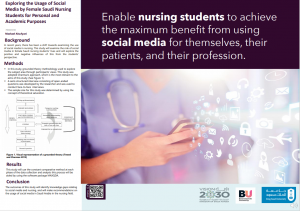 The simulation model used while undertaking the Structural Health Management (SHM) task to predict the response of the system/structure(s) to disturbances, got phase-out when the real system/structure material properties changes in non-uniform and complex way. In order to accurately predict future states of a system/ structure, which can change its behaviour to a large degree in response to environmental influences, the existence of precise models of the system and its surroundings is demandable. For this, simulation modelling within DT paradigm concept is proposed, with DT encompassing continuous and automatic model updating framework, reducing the computational (parametric) uncertainties that arises with time in the process and ultimately having a lifetime reliable prognosis tool for the structural behaviour. The solver (algorithm/framework) will be tested with a real-world problem by setting a DT environment integrated with an ultra-high-fidelity simulation model (for eg: cathodic protection (CP) model built for the prediction of the corrosion status of a seastructure).
You can view the full poster exhibition on the conference webpage.
---
If this research has inspired you and you'd like to explore applying for a research degree please visit the postgraduate research web pages or contact our dedicated admissions team.