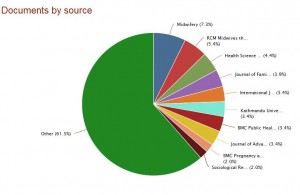 It is always disappointing for an academic author to receive a rejection letter.   Today I received yet another one from Midwifery (published by Elsevier).   Sometimes I think academic publishing in good journal is not getting any easier over time.  Neither does the experience of having  over two hundred peer-reviewed academic papers make a rejection easier to deal with.  This was my third paper in a row that got rejected by Midwifery.  All three papers were rejected on resubmission, so a lot of extra work had gone into these papers after the initial peer review and the editor's feedback.  These three papers where led by three different postgraduate students (Sharma, Baral & Burton) as first authors, and in each case co-authored by myself and different BU academics and/or from other universities.
Midwifery is the journal in which I have published more papers than any other journal (see top blue piece of pie in 'Documents by source') as reported on SCOPUS today (26 April 2015).  Moreover, I am co-author of one of the top five most downloaded papers in Midwifery for 2014 (see recent BU Research Blog), and this paper is also the most cited Midwifery paper since 2010!   Still I manage to have three papers rejected in a row.
What is does show to me is that the journal's peer review system is robust (i.e. blind and impartial) because I am also a member of Midwifery's editorial committee.  I think it is back to the drawing board and discuss with each set of authors what the next step should be for our papers.  To be fair we had a paper published already this year in Midwifery, namely:  Grylka-Baeschlin, S., van Teijlingen, E.R., Stoll, K., Gross, M.M. (2015) Translation and validation of the German version of the Mother-Generated Index and its application during the postnatal period. Midwifery 31(1): 47–53.
As an editorial board we try continuously to maintain a high quality of papers to be published in our journal, and we would like to encourage potential authors to keep submitting their papers to Midwifery.
Prof. Edwin van Teijlingen
CMMPH