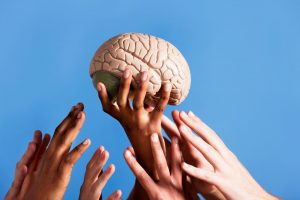 You are invited to join us for the final dissemination event of the Healthy Brain Healthy Life project.
The event will bring together researchers, participants, collaborators and members of the public to share our experiences of the project.
We will share experiences from the perspectives of the researchers, local delivery partners and participants. You will be hearing stories about the workshops – how they were designed and implemented – and their impacts especially on participants, the community and on future research. We will showcase different outputs co-created with participants from the workshops.
Please contact Dr Sophia Amenyah (samenyah@bournmouth.ac.uk) if you would like more information about the event.
Date and time: Wednesday 26 April 2023 at 5:00 – 7:30pm
Venue: BGB302, Bournemouth Gateway Building
Eventbrite link registration: https://ARUK-brain.eventbrite.co.uk
Funded by Alzheimer's Research UK, and led by researchers from BU and collaborators, Healthwatch Dorset and Edge Hill University, we co-created a series of interactive culturally-tailored workshops to create dialogue around brain health and dementia risk with minority ethnic communities.
The project provides an example of best practice of public engagement in research and how to engage with underserved communities around difficult subjects. To find out more about the project, please check out our website: https://www.bournemouth.ac.uk/research/projects/healthy-brain-healthy-life