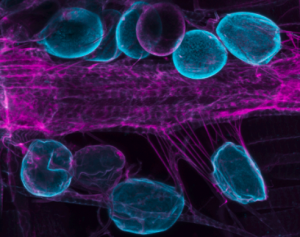 Whether its in you, a blue whale or a tiny insect, circulating fluids bathe and nourish organs, tissues and cells. To avoid compromising organ function, these 'bloods' are filtered and kept free of unwanted molecules. Studying these clearance mechanisms informs us about normal physiology, as well as disease across a vast array of organisms, from flies to humans.
In a new paper led by BU, it has been established that a mechanism common to flies and humans involving a protein called Amnionless, relies on a cell's calcium level being controlled by genes known as Stim and Orai. Using powerful fruit fly genetics and dynamic cellular imaging techniques, the researchers found that as calcium levels change, Amnionless is turned-over at the cell surface where is helps to remove unwanted molecules. This new information is important because of its relevance to the human kidney's role in blood filtration. Additionally, research is showing that the mechanism can be targeted by environmental toxins and this may explain why some insect species are struggling in the wild.
It is sobering to think that aspects of human cardiovascular disease and the 'insect apocalypse' may actually have common origins. Understanding these biological systems therefore has a dual purpose by informing medical, biomedical and ecological research fields.
(The image shows insect filtration cells in blue, adjacent to the heart, coloured magenta).