BUDI hosted a packed day of events showcasing some of our research, community-based projects and awareness-raising work. Attendees included university staff and students, people living with dementia and their family members, care home staff, members of the Alzheimer's Society and interested members of the public. The day started with an announcement of the commitment by Bournemouth University to work towards becoming dementia friendly. This entails delivering dementia friends training to all university staff and, in time, to all students, ensuring Human Resource processes meet the needs of family members caring for people with dementia and anyone with a diagnosis of dementia working in the university, ensuring any marketing and communications are 'dementia friendly' and working with Estates to ensure the university meets dementia friendly design principles as much as possible.
We were delighted to see the return of the BUDI orchestra, comprising people with dementia, their family members, Bournemouth Symphony Orchestra musicians John Murphy and Kevin Pritchard and led by Andy Baker, a freelance musician, who showed us techniques to support successful rehearsals and performances. This interactive workshop had everyone participating and it set the tone for an inspiring day.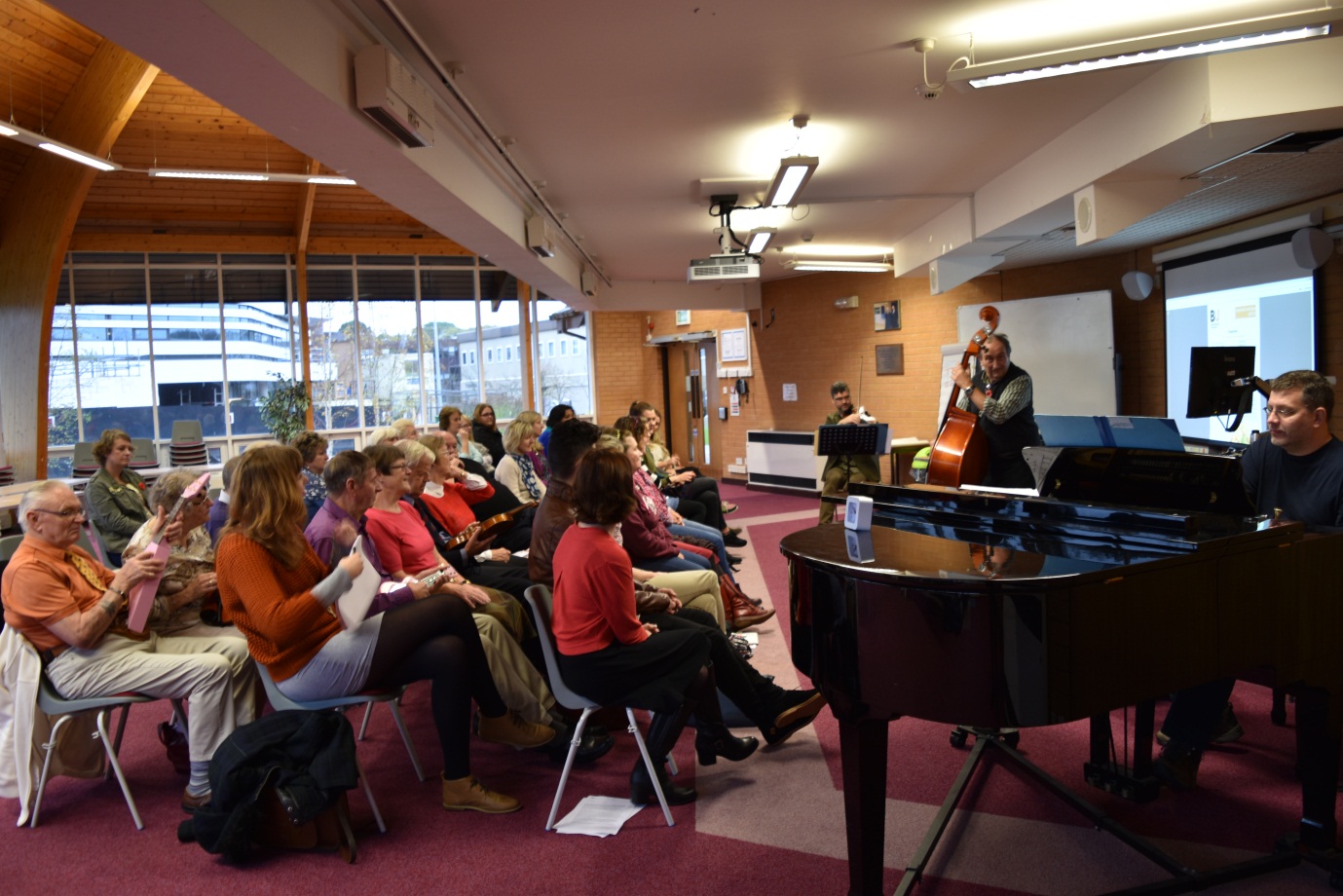 BUDI orchestra and the audience playing music together.
We also heard from Dr Samuel Nyman about his recently NIHR funded Tai Chi project and had a chance to learn some basic Tai Chi from Robert Joyce. In the afternoon we were inspired to create poetry by Jonnie Seagrave 'Fluffypunk' and shown how to create poetry with people with dementia.
We then heard from Mary O'Malley about her Ph.D. investigating wayfinding in people with dementia, followed by a dementia friends training session delivered by Dr Michelle Heward. Throughout the day, we had visitors to our BUDI stand and the Alzheimer's Society's table, In the Student Centre, SportBU had a sponsored spin bike challenge to cycle 850,000 metres – a metre for every person living with Dementia in the UK. They managed this amazing feat and raised £100.00 for the Alzheimer's Society. A huge thank you to everyone who took part and contributed.
The day finished with a screening of the film Still Alice, which portrays the journey of a woman diagnosed with Alzheimer's Disease in her early 50s, and this was followed by a lively panel discussion (Professor Candida Yates, Professor Iain MacRury, Dr Fiona Cownie and Dr Fiona Kelly), in which the audience offered their insights, experiences and thoughts on the film.
Pictures (Learning Tai Chi, Learning Poetry, BUDI welcome desk and SportBU bike challenge)