We had some amazing research shared at our Public Lecture Day last week, the audience was captivated in the historical and archaeological research conducted at BU, there's probably never been such a large group of people talking so enthusiastically about chickens!
We were joined by;
Penelope Foreman who taught us the use of colour in Neolithic monuments of Northern Europe.
Dr. Julia Best who got us excited about chickens and their use in Iron Age to Medieval Europe.
Dr. Angela Turner-Wilson who gave us insight into the Health and Wellbeing of the Roman World
Dr. Vanessa Heaslip who taught everyone the benefits of Cultural Heritage Therapy and how this inspired the Human Henge project.
It was great to see such a fascinating spread of research shared with an engaged audience, who were hungry to learn more in the Q&A sessions.
Look out for our film!
We were lucky enough to be able to film the September 2017 Public Lecture Day so if you couldn't join us on the day, you will get the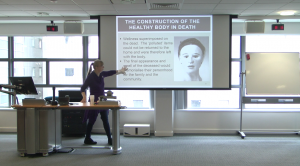 chance to engage with us on Facebook when we upload the talks… make sure you keep an eye on your feed for them!
Our next Public Lecture Day will be in the new year, if you would like to find out more closer to the time feel free to sign up to our mailing list by emailing us.