Report by Dr Samuel Nyman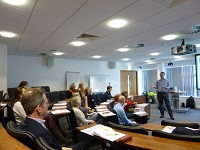 On Wednesday 18th March, the Bournemouth University Dementia Institute (BUDI) hosted a Masterclass on the use of technology with people with dementia. This was the first in a series of four Masterclasses set for the 2015 calendar year. We provided a day full of information and inspiration on the use of a range of technology with people with dementia. The morning focused on technology and everyday living, and included sessions on assistive technology, monitoring technology, smart homes, virtual reality, and dementia friendly technology guidelines. The afternoon focused on gaming technology and included opportunity to interact with a range of devices including iPads, an Xbox, Wii, a virtual reality environment, and an educational game. 
We had 20 external guests attend the day, who represented organisations from the public, private, and third sectors. The feedback was on the whole very positive and we look forward to providing the next Masterclass in a few months! 
Next Masterclasses:
Wednesday 17th June:             Financial and Legal Aspects of Dementia Care
Future Masterclasses:
Wednesday 30th September:   Creative Approaches in Dementia
Wednesday 2nd December:     Promoting Wellbeing at the End of Life