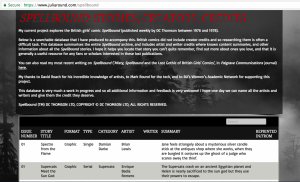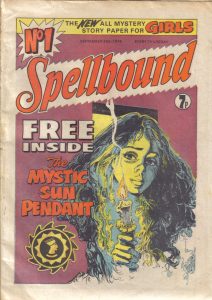 This week sees the online release of a new open access comics database (https://www.juliaround.com/spellbound) that reveals previously unknown and unpublished information about the British girls' mystery comic Spellbound (DC Thomson, 1976-78).
British comics dominated children's entertainment in the United Kingdom for several decades over the latter half of the twentieth century. There were hundreds of weekly titles, with the most popular circulating over a million copies. They were diverse, exciting, irreverent, innovative, and worked on by some of the top talent in Europe (many artists came from Spanish studios). But their taut storytelling, dynamic layouts, and dramatic content are just memories to many old readers today – and in fact even these are fading. Memories from within the industry are equally precarious, as we have sadly lost a number of important creators over the past few years.
My research aims to increase access to information on British girls' comics for readers, fans, and researchers. The majority of British comics in the 1970s did not credit their writers or artists, and the comics themselves are often hard to access, so preserving and publicising information on their creators and their content is vital to help us remember and explore their legacy.
Over the last decade I have done a lot of research into Misty, a competitor title published by Fleetway/IPC (1978-80). In 2019 I published my book Gothic for Girls: Misty and British Comics which was the first full-length critical history published on any single British comic. It brought together a wealth of primary research taken from archival visits, creator interviews, and online discussions with past readers, and revealed a great deal about the hidden history and production practices of the comics industry in this country. Many of the writers, artists, editors and associates I interviewed had never previously spoken about their work for British comics. Their recollections gave a fascinating picture of how the industry operated – one that is in danger of being entirely lost due to a lack of records and the ephemeral nature of these publications.
It was a joy to help name the creators of these stories and to finally credit them for their work, and when my project ended I wanted to continue this and make more information about British girls' comics freely available. The Women's Academic Network awarded me a small amount of funding back in March 2020 to support planned research trips to access archives of 1970s girls' comics and speak with relevant publishers and creators. Due to the pandemic a lot of this research instead had to be conducted online and I also purchased several lots of comics as I was unable to access archives.
My aim was to complete my archival analysis of Spellbound and produce an open access database collating all the information I could find on its content (stories, creator names, recurring themes, etc). I'm very happy to announce I've finally managed to get the resulting database online and it has now been published at https://www.juliaround.com/spellbound. It contains story summaries and creator information (where known) on the entire run of Spellbound and is searchable by name, keyword, title, etc. My hope is that it introduces new readers to the types of stories that these comics told, that it helps old readers locate the stories they can't quite remember and find out more about the ones they love, and that it is generally a useful resource for any fans or scholars interested in these lost publications.
Julia Round's research examines the intersections of Gothic, comics and children's literature. Her books include Gothic in Comics and Graphic Novels (2014) and the award-winning Gothic for Girls (2019). She is an Associate Professor in English and Comics Studies at Bournemouth University, UK, co-organises the annual International Graphic Novel and Comics Conference (IGNCC), and edits Studies in Comics journal and the Encapsulations book series. She shares her work at www.juliaround.com.