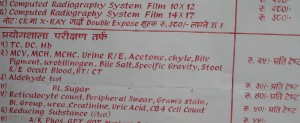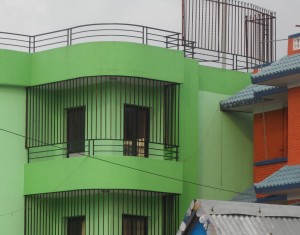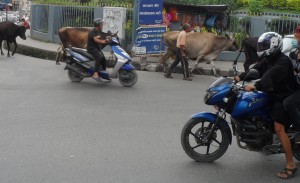 Today I attended a contract-signing meeting at the Department of Health, Physical and Population Education at Nepal's oldest university, Tribhuvan University (TU).
BU, TU and Liverpool John Moores University (LJMU) have been awarded a Tropical Health & Education Trust (THET) grant for health partnerships to carry out training and capacity-building projects in low-income countries, such as Nepal.
The new BU-led THET project will bring highly experienced UK volunteers to train some 100 maternity care providers, such as Auxiliary Health Workers (AHWs) and Auxiliary Nurse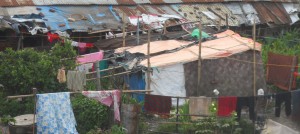 Midwives (ANMs) about the key mental health issues in pregnancy and in the months after birth.  A local charity Green Tara Nepal (GTN) will support the work through some of the curriculum design, sensitising UK volunteers to live in rural Nepal, assisting in translating, as well as helping to recruit the local health workers. The two UK universities have a long history of working with GTN as well as its sister organisation Green Tara Trust (GTT), a Buddhist charity based in London. The new project will be based in Nawalparasi in the sub-tropical part of the country bordering India.   The target population consists of grassroot health care practitioners since there are no doctors in these rural villages.
The pictures accompanying this post illustrate the inequalities and the mix of modern and traditional in Kathmandu today.  The city crowded with motorbikes and then occasionnally one sees a couple cows been driven through these busy streets.  The green house is in the street in front of where I am staying and the shanty town building are the backdoor neighbours.  The picture with text is the price-list ourside the main infectious diseases hospital informing patients about the costs of certain treatments, tests and drugs.  A reminder that health care might be free in name for the poorest people, there are still many costs involved in gettiong treated in hospital!
This project is supported by the Tropical Health & Education Trust (THET) as part of the Health Partnership Scheme, which is funded by the UK Department for International Development (DFID). The following people make up the international project team: Edwin van Teijlingen, Padam Simkhada, Bhimsen Devkota, Padmadharini Fanning, Jillian Ireland, Bibha Simkhada, Lokendra Sherchan, Ram Chandra Silwal, Samridhi Pradhan, Shyam K. Maharjan, Ram K. Maharjan