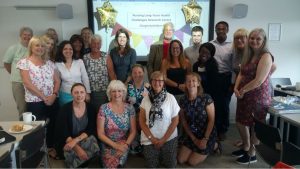 The nursing research centre is one of the newest BU research centres.  The buzz and energy at our inaugural away day this week was fantastic, as we planned our first year of activity.  The overall aim of the research centre is to contribute to the knowledge base informing the nursing management of long-term health challenges, a rapidly growing aspect of contemporary health care.  We are developing four research programmes in collaboration with practice partners and service users in the following areas:
palliative and end of life care
nursing leadership and workforce development
evidence based nurse education
humanising care practices to support living well with long-term health challenges
Led by Dr Janet Scammell and Professor Sam Porter, the research centre has over 40 members and is developing its programme through a collaborative and inclusive strategy to capitalise on the talents of all Centre members and develop research capacity within the department of nursing and clinical sciences.