On Tuesday 17th April 2018, the Ageing and Dementia Research Centre (ADRC) were invited to join Health Education England (HEE) to showcase the Dementia Education and Learning Through Simulation 2 (DEALTS 2) programme at 'Dementia 2020: The Next Phase' in London. The event, hosted by Govconnect, provided an opportunity to consider progress on the 'Challenge Dementia 2020 Implementation Plan' assessing whether commitments have been meet so far. Commitments of the plan aspire to make England the best country in the world for: dementia care and support; for people with dementia to live; and to conduct dementia research.
In 2016, HEE commissioned a team from Bournemouth University (BU) to develop and evaluate DEALTS 2. DEALTS 2 is a simulation-based dementia education programme for staff in acute hospitals across England. It is based on an experiential learning approach, placing hospital staff into the shoes of a person with dementia, to facilitate a positive impact on practice. The training is mapped against a selection of core competencies for staff with regular contact with people with dementia (Tier 2) and underpinned by the Humanising Values Framework a philosophical lens originally developed at BU. The team, Dr Michelle Heward, Dr Michele Board, Ashley Spriggs and Prof Jane Murphy, delivered DEALTS 2 as a train-the-trainer model across England in 2017 to 196 trainers from 13 HEE Local Education Boards, and are continuing to evaluate the impact on practice.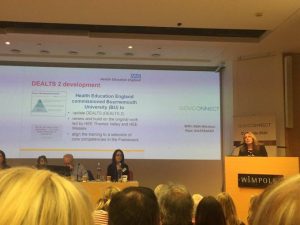 The DEALTS 2 programme was showcased as a case study at the Dementia 2020 event in a presentation given by Jan Zietara the Head of Programme Delivery for HEE. Dr Michelle Heward represented the ADRC at the event which provided an opportunity to connect with members of key organisations involved in delivering the Implementation Plan for Dementia 2020, as well as people with dementia, caregivers and individuals interested in dementia care and support more broadly.
The event was co-chaired by George Rook an advocate who himself lives with dementia, and Rachel Thompson the Professional and Practice Lead for Dementia UK. Throughout the event a range of speakers updated the audience on progress including: Jeremy Hughes CBE, Chief Executive, Alzheimer`s Society; David Nuttall, Deputy Director – Dementia Policy, Department of Health; and Dr Charles Alessi Senior Advisor and Lead for Dementia, Public Health England. It has to be said though that Suzy Webster who is a caregiver for her mother who has dementia gave the most heartfelt speech reminding us that policy is necessary but it is now time to see action on the ground to improve care and support for people with dementia – not a dry eye was left in the house!
Discussion on the day focused on celebrating the small steps forward that have been taken, whilst being mindful that there remains some way to go to meet the commitments outlined in the plan by 2020.