Yesterday we meet in Kathmandu with colleagues working for Pourakhi. Pourakhi is a charity, a non-governmental organisation (NGO), that helps to advocate for the rights of women who returned to Nepal after migrating for employment.  The name Pourakhi, which means self-reliant in Nepali, represents the idea that the organisation is largely run and supported by Nepali women who had migrated abroad for employment.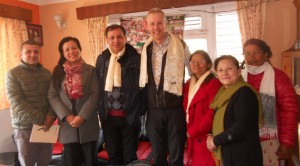 Globalization and trade liberation have opened up opportunities in the international labour market for women in Nepal.  Lack of job opportunity in Nepal and poverty have put a growing demand on women to economically support their family.  This means many Nepali women are leaving the country to work abroad.  In doing so they contribute to the economic prosperity of their families and also in the poverty alleviation of their country through remittances.  However, working abroad comes at a cost, as it is not always easy, especially for women.

The Faculty of Health & Social Sciences at Bournemouth University (Prof. Edwin van Teijlingen) and Liverpool John Moores University (Prof. Padam Simkhada, who is also Visiting Faculty at FHSS) have been working with Pourakhi over the past years and half.  The main aim of this collaboration is to set up a proper database of women who return to Nepal, based on paper records collected by Pourakhi and use this data to publish academic papers and reports on the issue.  The first academic paper based on data collected up to 2014 has already been submitted.
Prof. Edwin van Teijlingen
CMMPH