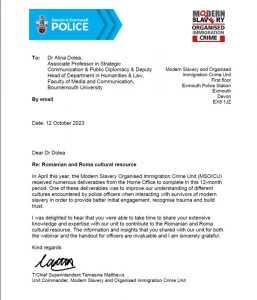 Dr. Alina Dolea, Associate Professor in Strategic Communication and Public Diplomacy and Deputy Head of Department in Humanities and Law, received a letter of thanks from the UK Modern Slavery and Organised Immigration Crime Unit (MSOICU).
Dr. Dolea contributed with expertise and insights from her research on Romanian diaspora community in the UK to the Romanian and Roma Cultural Resource, a deliverable that MSOICU developed for the Home Office. In addition, on September 13, 2023 she delivered the webinar for the launch of the resource together with a Romanian NGO representative and a Romanian police officer in the UK, a format that was considered very successful.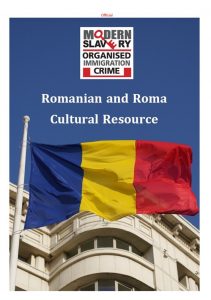 There were over 80 police officers in the pilot webinar – the handout and the recording of the webinar have been since shared with all police force modern slavery leads and related stakeholders.
For the handout and the webinar, Dr. Dolea provided a historical background on the formation of the Romanian nation and the Romanian Roma community (including their discrimination and Holocaust during WW2), key aspects of Romanian and Roma cultures (language, religion, family life).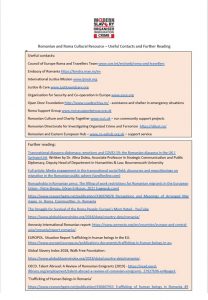 She explained the main reasons for emigration and the emotional costs of migration, the issue of lack of trust in authorities, but also trust in each other (fractured during Communism).
She also provided recommendations for communicating and engaging with Romanian and Roma victims or potential victims of modern slavery and organized immigration crime, as well as a list of further readings that were incorporated in the final documents.