Join us on Friday 27 May at 12.00 to find out how to evidence impact from research in a session by Bokani Tshidzu, Chief Operating Officer of impact consultancy Vertigo Ventures.
The session will outline the types of impact evidence that researchers can collect and online tools that can be used to gather this data. Attendees have an opportunity to consider the stakeholders involved in their research and find out how best to collect evidence of impact from different groups. There will also be a chance to find out more about the types of high-scoring evidence that was used in each panel during the last REF.
The session will take place in Kimmeridge House (KG03) Talbot campus from 12.00 – 14.00.  Light refreshments will be provided but please feel free to bring your lunch along.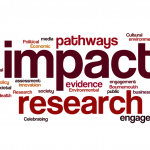 This session forms part of a series of research impact seminars and workshops, organised by RKEO to explore the various pathways to achieving societal and economic impact.  Within the series, attendees will explore methods for effectively engaging a variety of research users throughout the research process, and develop new ways to plan, deliver and evidence impact.
View the other events in the series or email Genna West for further information.