On 10th May 2023 we welcomed our regular group of local older people and practitioners to the ADRC coffee morning. In this session, we heard about collaborative work on the impact of drumming on health and wellbeing. Firstly, Dr Kim Brown from Nature Therapy Community Interest Company (CIC) introduced her work aimed at building sensory resilience with unique arts-based projects involving horses, wolves, forests, the sea, medicine wheel, labyrinths, and art and music including drumming. The research team (Dr Michelle Heward, Dr Caroline Ellis-Hill, and Lyndsey Bradley) then shared findings from a research project focused on drumming with people with dementia (for more detail see paragraph below). The group then had a go at drumming – it was very lively, and everyone enjoyed taking part!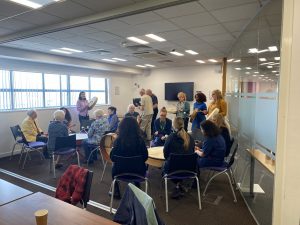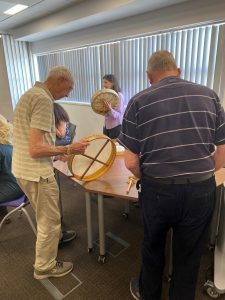 Drumming for dementia research
Nature Therapy have developed a level one Drumming for Dementia online course, to support family carers and care staff in health and social care settings to use drumming with people with dementia. The research project involved evaluating the impact of the course in care and home environments and was funded by the Burdett Trust for Nursing 'Small Grants 2020 programme'. The findings demonstrate that it is possible to gain confidence to practice drumming with people with dementia through the level one course provided by Nature Therapy CIC. And that these have led to positive impacts in terms of reduced agitation and greater engagement for those living with dementia.
To access the course visit https://www.naturetherapyonline.com/ click on 'more' and then 'drumming for dementia course'.
For more information about the study please email adrc@bournemouth.ac.uk
Future ADRC coffee mornings
ADRC coffee mornings are a forum for local people, practitioners, and researchers to meet to discuss ideas for research and share research findings. They take place on the second Wednesday of the month and are mostly virtual with an occasional face to face session. If you would like to present your research to the group at a future coffee morning, please contact adrc@bournemouth.ac.uk