Join us on 31 October 2023 | 14:00-15:00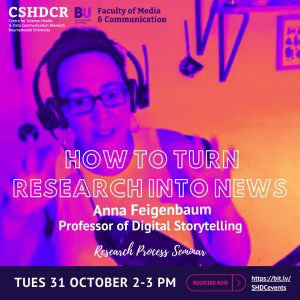 Whether explaining scientific details, introducing concepts from postcolonial politics or quoting archival texts, turning research into news is often a challenge. In this research process seminar Professor of Digital Storytelling, Anna Feigenbaum, introduces her process for identifying 'infobites' and tailoring them for an intended audience to maximise the reach and impact of your academic research. She also offers tips on 'what not to wear' and how to deal with journalists' questions that you don't want to answer. This seminar draws from Prof Feigenbaum's extensive experience working with media outlets ranging from Vice News to the BBC, from Elle magazine to Business Insider. At the end of this seminar, you will know:
How to identify 'infobites' that target a specific outlet and audience
How to deal with difficult questions
How to link research to impact via engagement with the media
Professor Anna Feigenbaum is an internationally known expert and innovator in the field of data storytelling. Her projects have been funded by UKRI, the Wellcome Trust, British Academy, the US Embassy, and the United Nations. Her research has informed journalistic reporting, NGO strategy including a Webby Award-winning data storytelling project, multiple web-comics, and museum exhibitions at the V&A, Barbican and The Whitney.  She has led digital storytelling and media trainings with the NHS, NGOs and universities around the world. Prof Feigenbaum's work reaches  wide audiences through public engagement and media activities including the British Science Festival, The Conversation, The Guardian, The Financial Times, BBC Radio 3 and Radio 4.