Center stage this week in the PGR Virtual Poster Showcase:
Varshini Nandakumar, PhD student in the Faculty of Science & Technology with this poster entitled:
'Design of a functional electrical stimulation device adaptive to walking.'
Click the poster below to enlarge.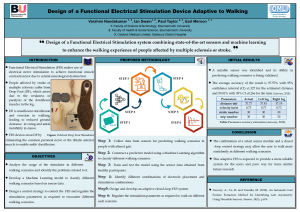 Functional Electrical Stimulation (FES) is a neuro-rehabilitation technique commonly used to aid walking in individuals suffering from Drop Foot (DF), a condition that limits ankle dorsiflexion leading to drag the foot while walking. FES devices make use of small electrical pulses to generate functional muscle contraction, enabling dorsiflexion to overcome DF. Existing FES devices are aiding mobility significantly, but one limitation in them is the inefficacy to allow the user to walk confidently in different walking scenarios. As reported by users, this is caused due to the inability to lift their foot sufficiently to ambulate on different walking scenarios. Hence this project proposes to overcome this limitation using machine learning algorithms to develop a predictive model to identify steps, ramps, and kerbs. The output of this model will then be used to control the stimulation levels to provide sufficient stimulation to enable the user to overcome the obstacle.
---
If this research has inspired you and you'd like to explore applying for a research degree please visit the postgraduate research web pages or contact our dedicated admissions team.