Dr Phil Crowther, from Sheffield Hallam University (Sheffield Business School), will be on a short visit to BU where he will meet researchers from the Department of Events and Leisure to exchange and explore potential research opportunities (8th March 2016).
"Designing 'Playful' Business Events" is the title of his guest lecture, where Dr Phil Crowther explores the very serious nature of play in the design of business events.
We invite you to join this session, to the limit of seating capacity, on the 8th March 2016, Allesbrook Lecture Hall (Talbot Campus), 1 p.m.
For a little bit more on Dr Phil Crowther, please read below his story in the first person.
Would you like to know more details on this visit or to join us in the research meeting programme, please email Dr Lenia Marques, lmarques@bournemouth.ac.uk .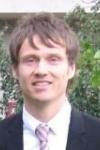 My first degree was in Recreation Management from Loughborough University, graduating in 1995. Since then I have enjoyed a career in recreation / leisure / tourism / event management for eleven years, running cinemas, theme parks, and health and racquet clubs as General Manager.  During this time I had the pleasure of designing and delivering such highlights as film premiers, celebrity birthday parties, and large team building events.  During my industry career I completed a part-time MBA in Executive General Management which was my pathway back into universities. Since then I have thoroughly enjoyed teaching, researching, and delivering continuing professional development (CPD) events and consultancy in the area of Event Management.

My teaching focuses heavily on strategy and events, leading teaching on modules such as Event Policy and Planning, Strategic Event Design, and Strategic Event Creation.  My research focusses specifically upon Marketing Events, part of the Experiential Marketing eruption, and I have published a number of journal papers.  I have recently edited a book entitled Strategic Event Creation with colleagues which sets out an agenda for the practice, and teaching, of events.   Most recently completed my PhD entitled 'Strategic Application of Marketing Events' which continues to be my main interest.   

 Beyond that I have two fabulous daughter, a wonderful partner, and two amazing dogs called Baxter and Will.  I also have a passion for running and was most recently, in January this year, running the Hong Kong Marathon in pouring rain.