Please join us at our next ADRC coffee morning on May 10th from 11-12:30 (arrival at 10:45 in reception).This is an in-person coffee morning which will be taking place at our Executive Business Centre at Lansdowne Campus.
In this session Caroline, Lyndsey, Michelle and Kim will join us to share their work on the impact of drumming on health and wellbeing. During the session they will share the findings of their research focused on drumming with people with dementia, before inviting you to take part in a drumming session.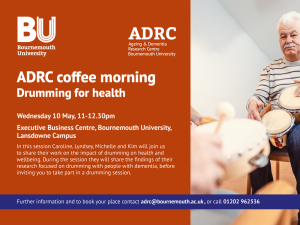 Places are free but if you would like to attend please email adrc@bournemouth.ac.uk to book your place.