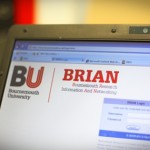 I am pleased to inform you that a number of improvements were made to the Academic Profile Pages yesterday. 
Names are now shown in Forename and then Surname order;
Keywords are now displayed near the top of the page and so if you haven't selected yours yet, please do;
Publications are now ordered in their sub-types, i.e. journal article, conference, book, etc.
There are other changes that will be implemented shortly and so watch this space.
Please also note that the remaining old staff profile pages (for the School of Applied Sciences and School of Tourism) will be removed shortly and replaced with the links to their current academic profile page (updated through BRIAN).  Those individuals with an old School web page will be contacted directly.