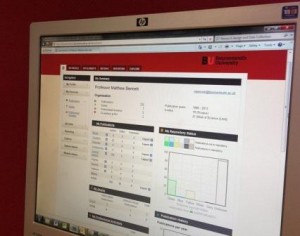 Another feature of the new version of BRIAN, when it is released later this month, will be the ability to record details of grants.
What makes a grant suitable for inclusion in BRIAN?  Well, it must have been awarded but you can include those that have been completed.  It is advisable to only include grants that are significant such as those from prestigious funders, of significant value, etc.  Courses and conferences are not suitable and so should not be included. 
The reason for the above is that the grant information that you put into BRIAN will be displayed in the new staff profile pages (live in October). 
Another useful feature is that you can mark a grant as a favourite.  Grants marked in this way appear on the home page of your external profile and have increased visibility.
Grant information can be added to BRIAN in the same way as you add publication or professional activity information.   The mandatory information required to enter a grant consists of: PI name, project title, funder name, start and end date, value and status (awarded, in progress or completed).  Other information can also be captured.  Grants can be linked to other BU staff and also to your publications.
More guidance will be provided at the launch of the new version of BRIAN.  In the interim, please give some thought to any grants that would be suitable for your BRIAN profile.