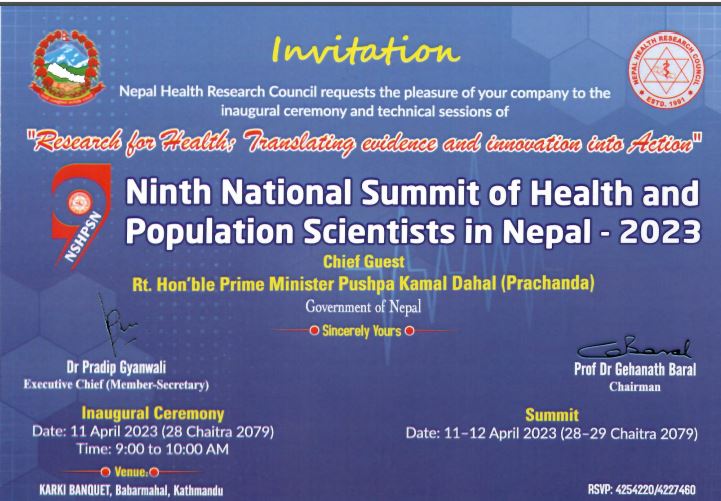 Professor Edwin van Teijlingen in the Centre for Midwifery, Maternal & Perinatal Health (CMMPH) has been invited to speak at this week's annual conference of the Nepal Health Research Council (NHRC).  His presentation on Wednesday 12th April 'Why is evidence synthesis centre important for Nepal? An opportunity for networking, collaboration & partnership'is based on a recently co-authored paper on this topic [1].  On behalf of his colleagues from the University of Huddersfield and the NHRC, he will argue that there is a need for a National Evidence Synthesis Centre under NHRC which can synthesize global, national and local research evidence that is relevant to a local context and meets demand of programme managers and policymakers at every level in Nepal.  The Centre should also promote the use of systematic review findings to appropriate decision-makers to ensure they have the best chance of getting implemented. Regular evidence synthesis can also contribute to the tracking of progress of Sustainable Development Goals (SDGs) indicators.  Such national centre should work in close collaboration with national and international academics and research institutions, national, regional and local governments, health experts and care providers.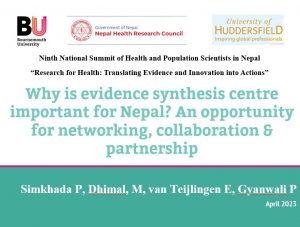 There are many types of outputs that use evidence synthesis, such as policy briefs, systematic reviews, clinical practice guidelines and so on. Finally, establishing a National Evidence Synthesis Centre would be very timely to help develop mechanisms of evidence synthesis as well as improve research communication. The first step could be the planning of a national workshop to identifying evidence gaps, next independent research teams can be formed for evidence synthesis while experts from institutions in the global north can provide mentoring support for capacity building and help ensure the centre's sustainability.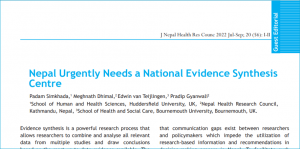 Prof. Edwin van Teijlingen is currently in Kathmandu as through Bournemouth University's Erasmus+ exchange with Manmohan Memorial Institute of Health Sciences (MMIHS) in Nepal.  As part of his teaching commitments at MMIHS he will conducted workshop sessions on academic writing and publishing based on the textbook Academic Writing and Publishing in Health & Social Sciences [2], which was published by Social Science Baha in Kathmandu in 2022.

References:
Simkhada P, Dhimal, M, van Teijlingen E, Gyanwali P (2022) Nepal Urgently Needs a National Evidence Synthesis Centre, J Nepal Health Res Council, 20(3): i-ii.
Wasti, S.P., van Teijlingen, E., Simkhada, P.P., Hundley, V. with Shreesh, K. (Eds.) (2022) Academic Writing and Publishing in Health & Social Sciences, Kathmandu, Nepal.