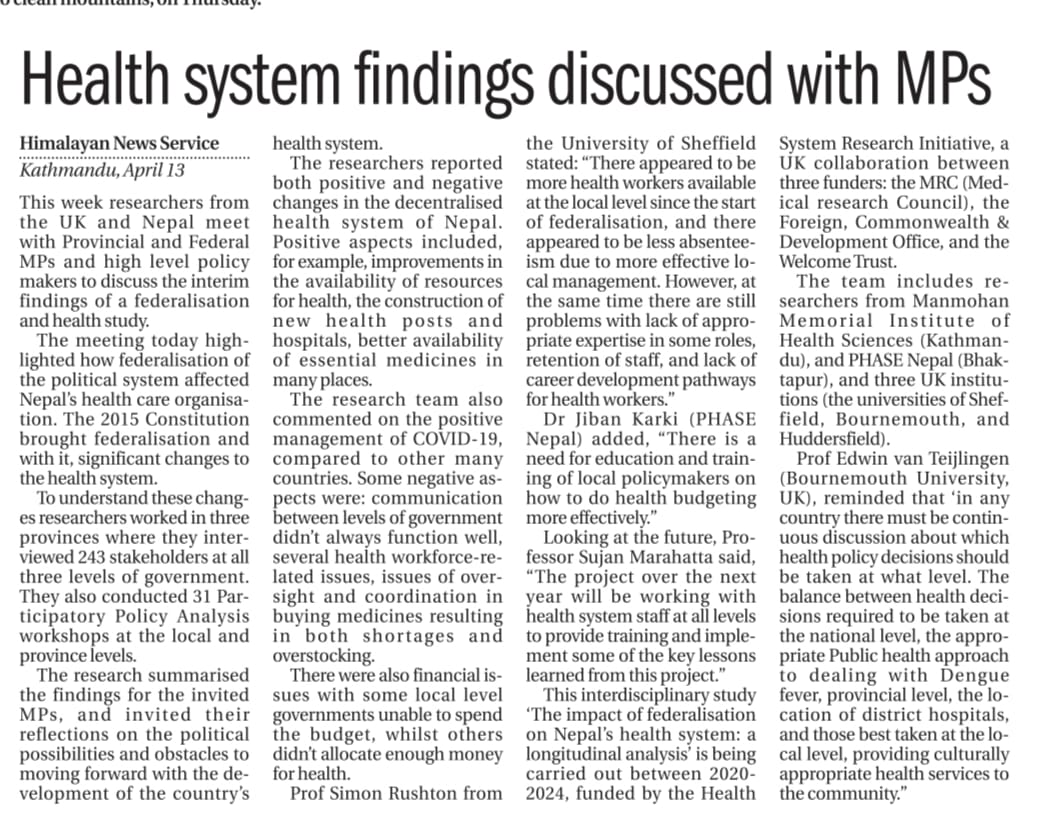 The interdisciplinary research project 'The impact of federalisation on Nepal's health system: a longitudinal analysis' was reported in several national media in Nepal last week.  This project running from 2020 to 2024 is, funded by the Health System Research Initiative, a UK collaboration between three funders: the MRC (Medical research Council), the Foreign, Commonwealth & Development Office, and the Welcome Trust.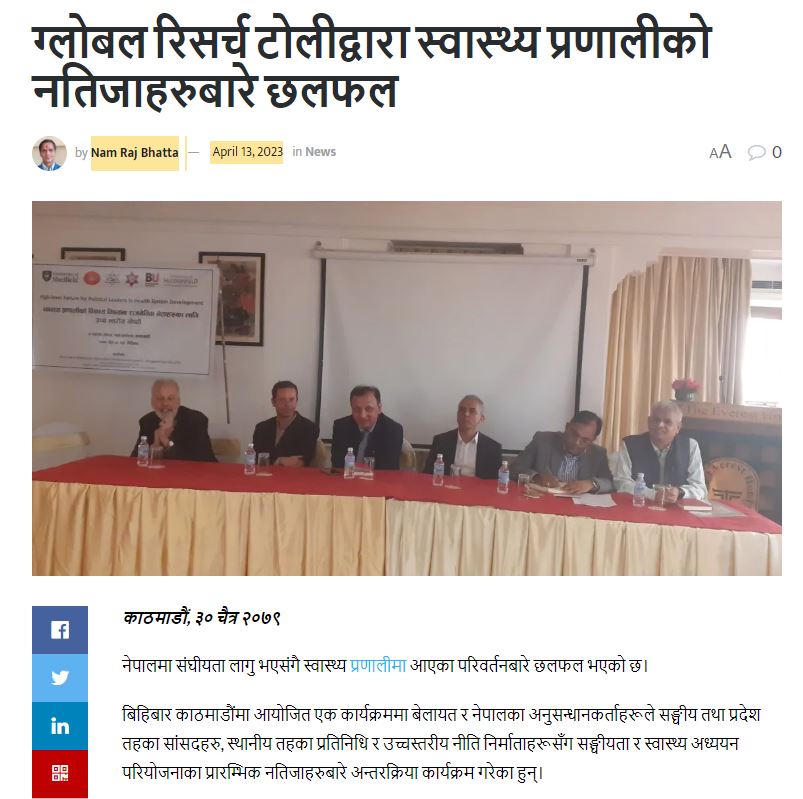 The 2015 Constitution brought federalisation and with it, significant changes to the health system.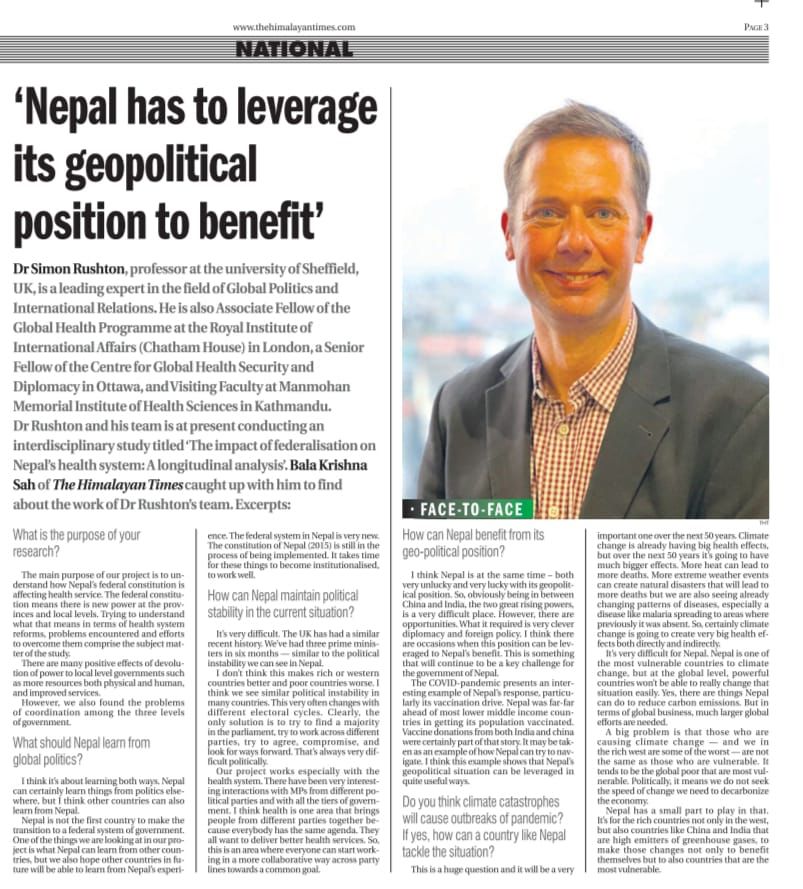 To understand these changes researchers worked in three provinces where they interviewed 243 stakeholders, at all three levels of government.  They also conducted 31 Participatory Policy Analysis workshops at local and province levels.   The team includes researchers from Manmohan Memorial Institute of Health Sciences (Kathmandu), and PHASE Nepal (Bhaktapur), and three UK institutions (the Universities of Sheffield, Bournemouth, and Huddersfield).   It researchers from the UK and Nepal meet with Provincial and Federal MPs to discuss the interim findings of a federalisation and health study.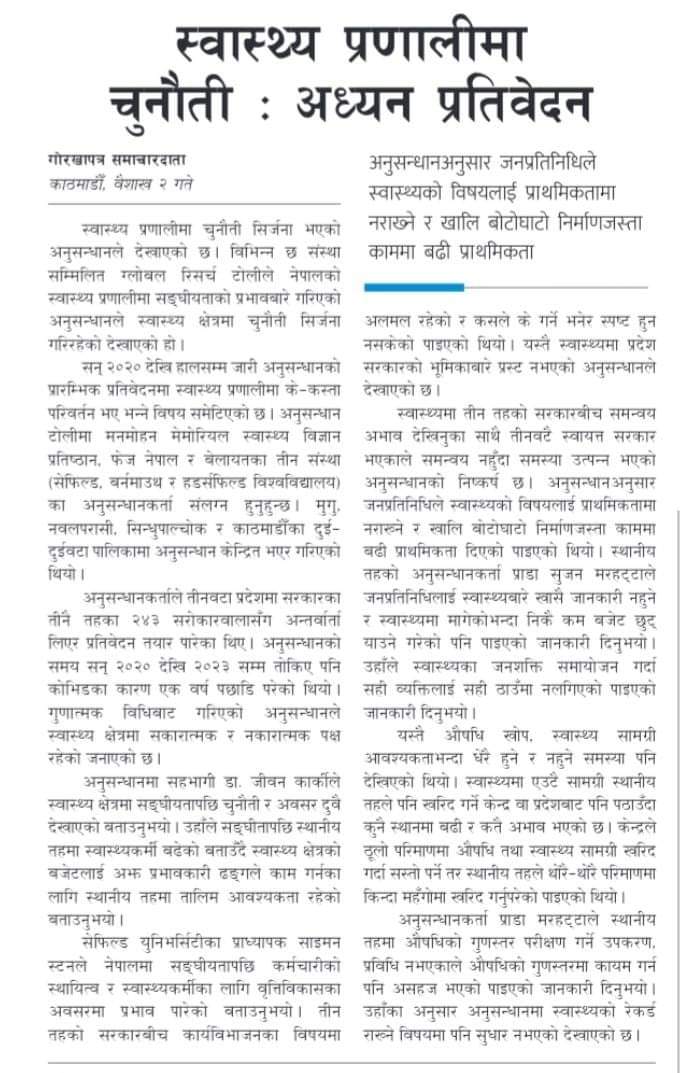 News articles appeared in national newspapers in Nepal, both in English and Nepali.  The Nepali article appeared in the country's oldest newspaper Gorkhapali, see copy here!  Bournemouth University [Thank you Nathaniel Hobby and Stephen Bates] also publicized our press release on this project online.  The journalist Nam Raj Bhatta published an item in the online Nepali-language newspaper NepalHealthOnline on April 13.  The main meeting to discuss the interim findings of our project took place on Thursday 13 April an hotel close Nepal's parliament.  The interim results highlight how federalisation of the political system has affected Nepal's health care organisation.    The research team summarized the findings for the invited MPs and local and provincial political leaders, and invited their reflections on the political possibilities and obstacles to moving forward with the development of the country's health system.  The Himalayan Times published the article on top of this BU Research Blog as well as the special interview with the University of Sheffield based PI Prof. Simon Rushton.
Prof. Edwin van Teijlingen
Centre for Midwifery, Maternal & Perinatal Health