You are invited to a two-hour 'Workshop on Health Systems in Nepal' at Bournemouth University (BU) on Thursday 25th May in the Bournemouth Gateway Building (BGB room 315) starting at 14.00, aiming to finish at 16.00.  We have the pleasure of welcoming three academic visitors from Manmohan Memorial Institute of Health Sciences (MMIHS) in Kathmandu who are at BU on an Erasmus+ exchange.

'Prof. Sujan Marahatta, Dr. Sujata Sapkota and Dr. Sujan Gautam from MMIHS are part of an international project examining the consequences for the health system of Nepal's move to a federal government structure.  This project, launched in 2020 at the beginning of the COVID-19 pandemic, is led by the University of Sheffield, in collaboration with BU, the University of Huddersfield, PHASE Nepal and MMIHS.  This nearly four-year project is UK-funded by the MRC (Medical Research Council), the Wellcome Trust and DFID (now called Foreign, Commonwealth & Development Office [FCDO]) under the Health Systems Research Initiative.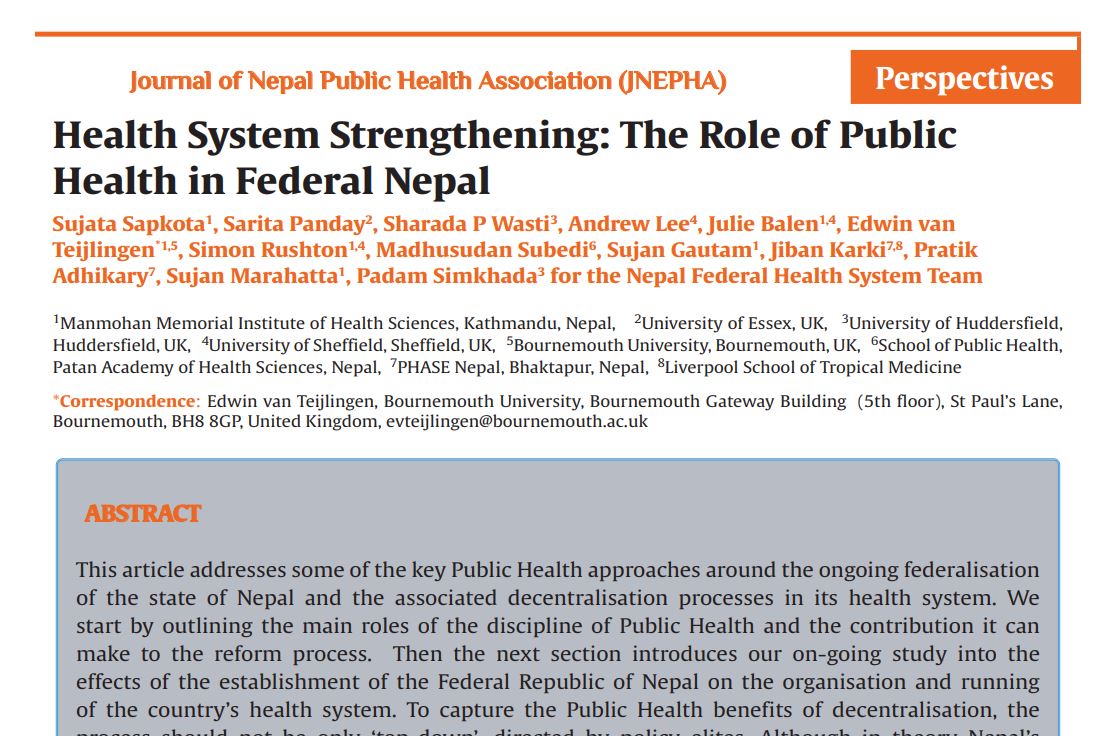 The project has resulted in several publications, all in Open Access journals.  The first of three papers introduced the research project 'The impact of federalisation on Nepal's health system: a longitudinal analysis' [1], the second focused on COVID-19 when examining the effects of changing Nepal's constitution towards a federal republic on its health system [2], and the third one highlighted  Public Health approaches around the ongoing federalisation of the state of Nepal and the associated decentralisation processes in its health system [3].
Prof. Edwin van Teijlingen
Centre for Midwifery & Women's Health (formerly CMMPH)
References:
Sapkota, S., Panday, S., Wasti, S.P., Lee, A., Balen, J., van Teijlingen, E., Rushton, S., Subedi, M., Gautam, S., Karki, J., Adhikary, P., Marahatta, S., Simkhada, P. for the Nepal Federal Health System Team (2022) Health System Strengthening: The Role of Public Health in Federal Nepal, Journal of 

Nepal

 

Public

 

Health

 Association 7 (1): 36-42.
Rushton, S., Pandey, S., van Teijlingen, E., Subedi, M., Balen, J., Karki, J., Simkhada, P. on behalf of the Nepal Federal Health System Team (2021) An Investigation into the Impact of Decentralization on the Health System of Nepal. Journal of Manmohan Memorial Institute of Health Sciences, 7(1): 3–14. https://doi.org/10.3126/jmmihs.v7i1.43146
Adhikary, P., Balen, J., Gautam, S., Ghimire S., Karki J.K., Lee A.C., Marahatta S.B., Pandey S., Pohl G., Ruston S., Sapkota S., Simkhada P.P., Subedi M., van Teijlingen E.R., on behalf of the NFHS Team (2020) The COVID-19 pandemic in Nepal: Emerging evidence on the effectiveness of action by, and cooperation between, different levels of government in a federal system. Journal of Karnali Academy of Health Sciences 3(3)