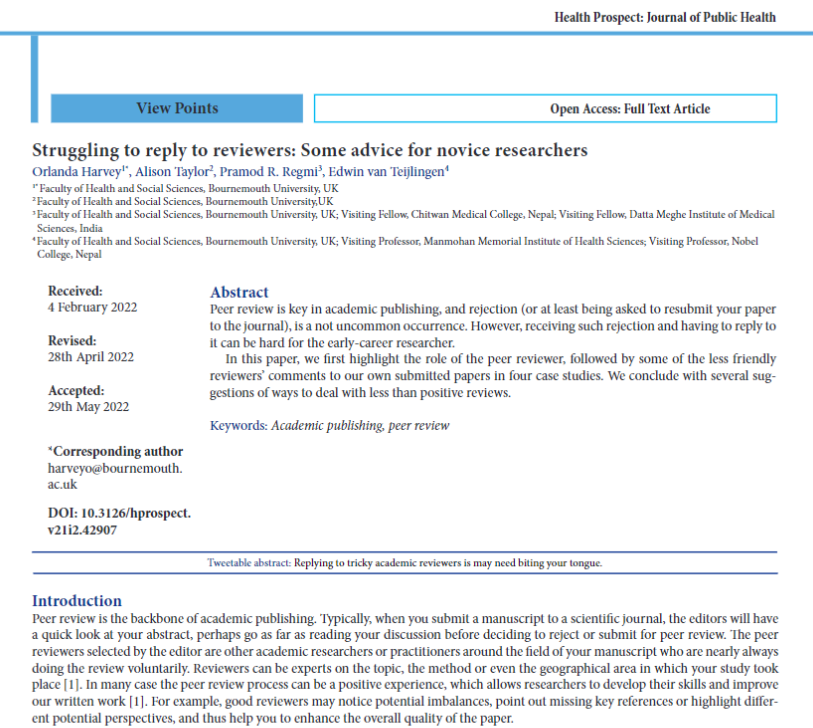 This week saw the publication of another Bournemouth University paper on academic writing and publishing.  This latest paper 'Struggling to reply to reviewers: Some advice for novice researchers' has been published in the scientific journal Health Prospect: Journal of Public Health.  This  journal is published in Nepal and it is Open Access, hence freely available across the globe.
Peer review is the process by which academic journals assess and regulate the quality of content they publish, by inviting academic experts to review your submitted manuscripts.  It is a process of quality control. Once you have submitted your paper to a journal the editor will select potential peer reviewers within the field of research to peer-review your manuscript and make recommendations. In many case the peer review process can be a positive experience for you as it allows you to develop your skills and improve your written work.  For example, good reviewers may notice potential imbalances, point out missing key references or highlight different potential perspectives, and thus help you to enhance the overall quality of the paper.  On some occasions, however a reviewer can be a complete pain in the neck!
The paper is written by a multidisciplinary team based in the Department of Nursing Sciences (Dr. Regmi), the Department of Social Sciences and Social Work (Dr. Harvey), and the Department of Midwifery & Health Sciences (Dr. Taylor & Prof. van Teijlingen).  The authors bring their combined expertise in midwifery, social work, health education, sociology and health services research to offers the readers advice how to deal with the more difficult reviewers.
Reference:
Harvey, O., Taylor, A., Regmi, P.R., van Teijlingen, E. (2022) Struggling to reply to reviewers: Some advice for novice researchers Health Prospect: Journal of Public Health 21(2):19-22