Congratulations to FHSS academics Dr. Pramod Regmi and Dr. Nirmal Ayral who published an editorial yesterday in a scientific journal in Nepal.  The paper 'Experts warn Nepal Government not to reduce local Public Health spending' [1] was co-authored by Dr. Bibha Simkhada who has just been offered a post as Lecturer in Nursing in the Department of Nursing & Clinical Sciences, she shall be starting with us on November 1st.  Further co-authors include FHSS Visiting Professor Padam Simkhada and Dr . Sujan Marahatta, the journal's editor.  He is based at Manmohan Memorial Institute of Health Sciences (MMIHS) in Kathmandu, Nepal.  Bournemouth University has a long-standing research collaboration with MMIHS.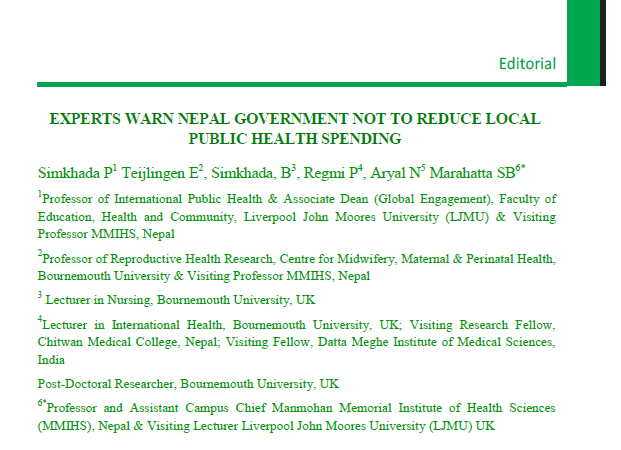 The editorial warns about the risks of losing the focus on public health and its wider national and global perspective in the recently changed political arena of Nepal.  Since 2015 Nepal has moved from a central state to a federal republic, whereby the seven new Provinces have gained much more power and control in the decentralisation process.  Moreover the first local elections for two decades in 2017 meant a lot of new and inexperienced local politicians were voted in.  Many of these local people had little prior experience of political processes, governing health systems, the notion of priority setting, running sub-committees of elected representatives, political decision-making at local level, etc.  The paper argues that Public Health can easily disappear of the radar.  The untrained newly elected representatives with no political experience are most likely to be drawn into proposing and supporting popular measures including developing new buildings, black-top roads, hospitals, etc., rather than measures that increase the local or regional budget for teachers, Continuous Professional Development (CPD) for community health workers, and preventative public health measures in general.  Buildings and roads are immediate demonstration to voters that politicians have done something useful, reducing maternal mortality by 2.6% or employing two additional health workers doesn't give politicians neither the same publicity, nor do such policies have immediate signs of success, and hence are unlikely to be vote winners.
The Journal of Manmohan Memorial Institute of Health Sciences is part of the Open Access publishing of Nepal Journals OnLine (NepJOL) supported by INASP.  The editorial also illustrates the kind of work conducted in Bournemouth University's Integrative Wellbeing Research Centre (iWell).
Prof. Edwin van Teijlingen
Centre for Midwifery, Maternal & Perinatal Health (CMMPH)
Reference:
Simkhada, P., Teijlingen van, E., Simkhada, B., Regmi, P., Aryal, N., Marahatta, S.B. (2018) Experts warn Nepal Government not to reduce local Public Health spending, Journal of Manmohan Memorial Institute of Health Sciences, 4(1): 1-3.