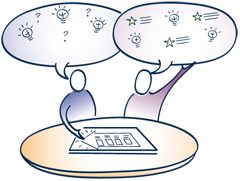 If you feel you would benefit from a 'face to face' meeting with Martin  in relation to any bid/proposal you are currently working on please contact me Dianne Goodman ASAP with your time preferences.
Martin currently has some availablity on these dates between the following times:
24th September 2013, 9:15am- 5pm (Lansdowne Campus )
Appointments are approx 45 minutes long. You will also have unlimited telephone and email support to progress your application after meeting with Martin.
With a career background in both Academia and Industry Dr. Martin Pickard of Grantcraft is a specialist in writing and supporting research grant applications and tenders as well as providing administrative and management support services for ongoing projects. During the last 20 years Martin has worked extensively across Europe with a large number of universities, and research institutes as well as industrial firms, ranging from small SME's to major international companies.
Martin is providing individual 1-2-1 surgeries with any BU academic staff member and works individually and confidentiality with each Principal Investigator as the project is structured and prepared in order to optimize the application documentation from every aspect of the Funders perspective; guiding, steering and showing how to optimize the application throughout the bid process.
Academics at BU who have undertaken his guidance have stated:
 'his support and direction was invaluable – Martin gave me some pragmatic suggestions which really helped to shape the bid. His eye for detail made the document much easier to read and the message much clearer. I was very grateful for his input'  Assoc. Prof Heather Hartwell School of Tourism.
The process, although labour intensive, works; with a proven historical average success rates of close to 1 in 2 against norms of (1 in 8 to 1 in 10)
Book Now through me Dianne Goodman – Martin's appointments are always popular.