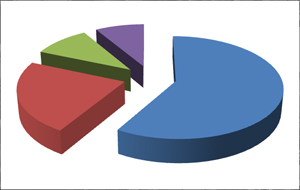 In these introductory two-day workshops, we will learn the fundamental concepts of statistics and quantitative analysis with the help of SPSS.  This is a hands-on programme with statistical analysis designed to help you make the most of the SPSS application to aid your own research and facilitate support of student researchers. You will not need any previous experience with SPSS or statistics.
The RKEO 'Statistical Analysis with SPSS' two-day programmes are aimed at faculty staff who would like to learn more about quantitative statistical analysis for their own research purposes or are supervising students undertaking a quantitative research project.
The introductory 2-day programme is designed to assist faculty staff who have no prior knowledge of quantitative statistics and do not have experience with a statistical application like SPSS, or who do not routinely work with this type of data.
Depending on attendees prior experience, planned content includes the following:
Introduction to SPSS and statistical analysis.
Managing and manipulating data in SPSS.
Introducing null hypothesis significance testing and p-values.
Normality testing.
T-test analysis.
ANOVAs
Correlation and Regression (time allowing)
The course comprises two sessions:
A two day beginner session – 12th and 13th February 2018
A two day intermediate session – 23rd and 24th April 2018
Please book onto the session which is most appropriate for your needs or both. If you are unsure of which route is best for you, please contact the session facilitator, whose details are given on the internal booking information page.
Each session is limited to 20 attendees but there will be a reserve list maintained so that demand for future sessions can be demonstrated.
These sessions are for BU academics and researchers only.
Students who are studying for a PhD/MRes should not use these workshops, but rather book places on the dedicated PhD quantitative analysis and SPSS workshops via the Doctoral College Researcher Development Programme.