Poster Exhibition | The 12th Annual Postgraduate Research Conference 
Kevin Davidson, MRes student in the Faculty of Science & Technology with this poster entitled:
Mindful Resilience: supporting young people at risk of gaming and gambling-related harms.
Click the poster below to enlarge.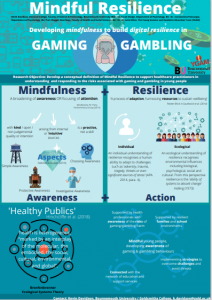 There is increasing evidence of gambling-type behaviour in young gamers and associated harms to their health and wellbeing. This issue is being addressed by a project to develop the educational resources for healthcare practitioners in this field, with Bournemouth University partnering with the Young Gamers and Gamblers Education Trust (YGAM), Betknowmore, the Responsible Gambling Council, and Playtech. Within this project an MRes has been funded to draw upon literature on Mindfulness and Resilience in outlining a working concept of Mindful Resilience. This concept of Mindful Resilience will be applied to digital contexts, such as those where young gamers engage in gambling-type behaviour, to foster digital resilience. This poster will describe and outline a working concept of Mindful Resilience and demonstrate how it applies in the digital context.
You can view the full poster exhibition on the conference webpage.
---
If this research has inspired you and you'd like to explore applying for a research degree please visit the postgraduate research web pages or contact our dedicated admissions team.