Poster Exhibition | The 12th Annual Postgraduate Research Conference 
Rachel Clarke, MRes student in the BU Business School with this poster entitled:
Leadership as a means of cultivating innovation: analogue people in a digital future.
Click the poster below to enlarge.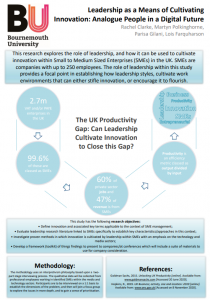 This research study considers how innovation is successfully nurtured within the UK small and medium sized business (SME) environment, and if leadership styles have a role to play when successfully cultivating an innovative culture within such SMEs. Furthermore, the research is investigating the tools that UK SMEs need to adopt to be able to successfully innovate. The research is a two-stage qualitative interview-based study in which data is collected from professional employees of identified SMEs within specific sectors. The participants are interviewed on their own, and then as part of a larger focus group, to enable the expansion of ideas and concepts presented. This research forms part of an emerging field of leadership within a practical context and contributes to the emerging knowledge of leadership, leadership styles, and innovation.
You can view the full poster exhibition on the conference webpage.
---
If this research has inspired you and you'd like to explore applying for a research degree please visit the postgraduate research web pages or contact our dedicated admissions team.