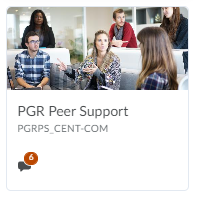 The PGR Peer Support area has just been launched and is now accessible for PGRs from your Brightspace homepage. The area will provide a forum to connect with others, ask questions and share advice about the PGR journey.
Within the PGR Peer Support area, under the heading of Peer-led Content, there is a series of interviews with current PGRs and graduates from BU. These video blogs will shed some light on the research milestones and common challenges.
In addition to this, there are Discussion Boards where you can ask questions or respond to others, post information about key events or calls for research participants too. There is also a Frequently Asked Questions tab, this will be populated with common questions from the discussion boards. This will create a repository of key questions with useful links to quickly solve small queries.
Please explore the area and engage with other PGRs. If you have any questions or suggestions for additional content you would find useful, please email Chloe Casey at ccasey@bournemouth.ac.uk.