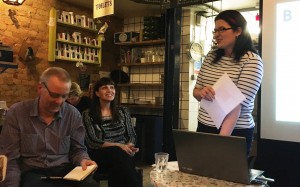 This month's Café Scientific last week (Nov. 3rd) was run as a collaboration between CMMPH and the Media School.  Café Scientific is a monthly event hosted at Café Boscanova for Bournemouth University.
This month's debate was chaired by CMMPH's Prof. Vanora Hundley (sitting in the centre of the photo taken by Naomi Kay). The debaters on either side were Dr. Ann Luce and Prof. Edwin van Teijlingen.  Ann Luce is a well recognised media researcher and a Senior Lecturer in Journalism and Communication who argued against the motion "Fear in childbirth: is the media responsible?"  Two opposing presentations generated a lively debate.  The audience, however, was not with Ann and overwhelmingly voted in favour of the motion.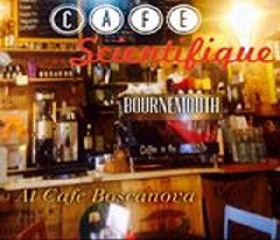 The next session of Café Scientific also has a health flavour as James Gavin will be talking on Tuesday December 1st on: Upwardly mobile: Why stair climbing helps us stay active.
Prof. Edwin van Teijlingen
CMMPH