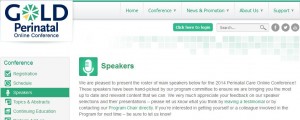 Bournemouth professors Vanora Hundley and Edwin van Teijlingen have been invited to present in the international online conference run from Canada.   The GOLD Perinatal Online Conference (14th Oct. -1st Dec. 2014) is a continuing education conference for health care professionals working in maternity care. Focusing on care during pregnancy, childbirth and the postnatal period, GOLD Perinatal is aimed at nurses, midwives, physicians, lactation consultants, doulas, and other health care workers providing care to women, infants and families.
Vanora will be speaking about 'Early Labour: Should we be telling women to stay at home?'   Although midwives frequently encourage women to labour at home for as long as possible, many women often seek hospital admission because they are anxious and would like more support. Vanora examines the evidence surrounding early labour in hospital and ask whether we should be telling women to stay at home.
Edwin will be presenting a sociological way of looking at the way society views and socially organises pregnancy and birth.  He examines the medical-social model of childbirth to help health care professionals and expected mothers and their families to make sense of world around them.
For more details on the conference see: http://www.goldperinatal.com/.
Prof. Vanora Hundley & Prof. Edwin van Teijlingen
CMMPH