The third edition of the Bournemouth Research Chronicle (BRC) is now published. Thank you very much to everyone who contributed.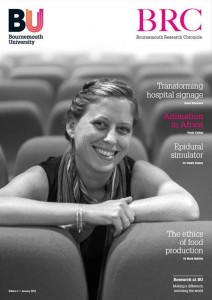 This is a glossy 'coffee table' magazine with some lovely images.  It is aimed at peer researchers and research collaborators, prospective funders and (perhaps most importantly) research users such businesses, government organisations, policy makers and charities.
We all know that communication is an integral part of the link between research and societal impact and this magazine is a great way to get the message heard by the right people.
Content is presented through BU's eight research themes. This edition provides a snapshot of some of the work BU submitted to the Research Excellence Framework (REF) 2014. In particular it focuses on the societal impact of our research, which forms a key part of REF2014.
Distribution
Every BU academic will receive a copy of the BRC. My colleagues and I will be in the Atrium, Poole House on Tuesday and Thursday next week with a large stash so do pop along, say hello and pick up yours. Otherwise, we'll put it in the internal post for you.
Throughout January I'll be sending the BRC to an extensive list of research users, including policy makers, community figures, opinion leaders, businesses and journalists. I will be providing a supply to each School so please do send it to your contacts, collaborators, peers, prospective funders, industry partners or anyone else who has an interest in BU's research.
R&KEO will keep a larger stock of the BRC. If you would like copies for an event or conference then email me (Sally Gates – Editor) to arrange a delivery.
Thank you again to everyone who contributed and happy reading!