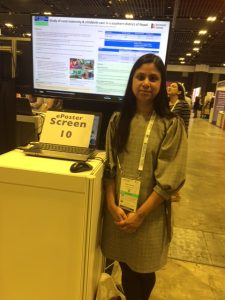 Last week I attended and presented e-poster at the RCOG (Royal College of Obstetrics & Gynaecology) World Congress 2018 in Singapore. The main congress programme run 22 to 24 March. RCOG president Professor Lesley Regan told in her opening speech that this Congress had more than 2,800 delegates and 150 speakers from 82 countries. Prof Regan also said that the Congress focused on the need for all to work in the field of obstetrics and gynaecology and to act as advocates for women's health. Furthermore, she stressed that it is necessary to look beyond clinical aspects and provide safe, high-quality care to speak for the needs of the women, many of whom have no choice of their own.
The e-poster I presented 'Study of rural maternity and childbirth care in a southern district of Nepal' is part of my PhD study on maternity care in Nepal.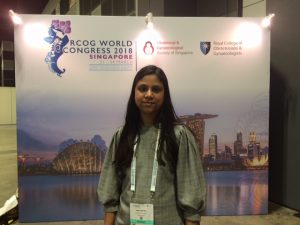 My poster was displayed on the morning of 22nd March (8:08– 8:16 AM) under the topic 'early pregnancy and acute gynaecology'. Over the three days programme schedule, I also attended several plenary sessions, oral presentations and viewed many e-posters. Although there were many topics specific to clinical aspects of obstetrics and gynaecology, I was mostly interested in presentations related to contraception and fertility control, abortion, gender equality, reproductive and sexual health of marginalised communities, female genital mutilation, breastfeeding and so on. Overall, it was a great experience to learn about research in women's health and maternity care and an opportunity to do networking with researchers with similar interests.
Finally, I would like to thank Santander Awards to provide me fund to cover my expenses to attend this congress and my supervisors for motivating me to apply for this conference.