Events Management graduate Sabine Töppig, who received the VC Fusion Prize in 2019, has just seen a paper based on her dissertation published by the International Journal of Event & Festival Management. The IJEFM, an Elsevier Journal, is one of the two top events management journals (Scopus CiteScore 2018 – 1.73; Scopus CiteScore Tracker 2019 (updated monthly) – 2.14).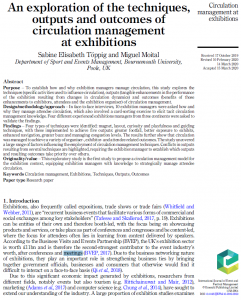 The paper, jointly authored with her supervisor Dr. Miguel Moital, explored the techniques, outputs, and outcomes of circulation management at exhibitions. For those who are unable to access the full published paper, a word version is deposited here.
Commenting on the process leading to the publication of the paper, Sabine said:
"It was great to continue working with with Miguel beyond the submission of my dissertation, to adapt it to journal standards, carry out additional research and examine circulation management at exhibitions in even greater detail. Collaborating with him helped me refine my academic style, broaden my horizons in terms of research methods, and navigate the peer-review process which requires a lot of expertise and flexibility to meet reviewers' demands. It was also valuable to gain an understanding of the academic publishing system by experiencing it firsthand."
From a personal perspective, Sabine said:
"It is an amazing feeling to see this paper published. For me, it represents the journey I have been on and how much I've learnt about both academia and events during my time at BU. I am pleased to be able to share my excitement for the exhibition industry with others, who can hopefully use this paper to complement their knowledge and learning. Knowing that this paper may be cited in the future or used by practitioners to inform their circulation management decisions feels surreal but incredibly fulfilling."
Commenting on the achievement, Dr. Miguel Moital said:
"I am immensely proud of Sabine's achievement.  Sabine did a great piece of research for her dissertation and when challenged to work with me on turning the dissertation in to a paper, she did not hesitate. She diligently navigated the steps and challenges that come with submitting and revising a paper. It has been a pleasure working with her. Congratulations, Sabine!"
Dr. Carly Stewart, Head of Department, said:
"The entire team at the department of Sport & Events Management is delighted at the news that Sabine's paper has been published in such a high standard journal. Concluding her brilliant academic journey at BU by publishing in such high quality journal for our field is a credit to Sabine's determination and intellectual capability. On behalf of the department, I would like to congratulate Sabine for her achievement."
Publishing the article follows from two other activities related to the dissemination of her dissertation research:
Presenting a paper at the annual International Conference of Strategic Innovative Marketing and Tourism (ICSIMAT) , in Chios, Greece.
Presenting my dissertation research at an international conference
Delivery of a guest lecture to MSc events Students:
VC Fusion Prize winner delivers guest lecture to MSc Events students
Sabine received the Fusion Prize from BU's VC Professor John Vinney at the 2019's graduation ceremony: