The nature versus nurture debate has long dominated entrepreneurship discussions in academia. But, globally, across universities and business schools, there is increased recognition of the role of university education as a springboard for entrepreneurial action. This may be in sharp contrast to many entrepreneurs' stories of dropping out of colleges to pursue their entrepreneurial ambitions but, the role of higher education in shaping entrepreneurship cannot be discounted. Enterprise education, as a tool, can prepare students for coping with changing environments and increase their self-efficacy.
At Bournemouth University Business School, I am privileged to lead the final year Entrepreneurship and Business Ventures, a module in the Entrepreneurship Pathway, which brings in students from 7 programmes on to this pathway- Many of whom join this as they have a latent entrepreneurial ambition; some merely for the curiosity of the subject and some naturally meander into it and find their passion. The strength of this module is in shaping the entrepreneurial dreams of many through in-class incubation support and bringing in expertise from entrepreneurs and industry stalwarts.
The highlight of this year's culmination of this module was the Annual Entrepreneurship Elevator Pitch competition where students had to present, as individuals, a well researched, well thought out, original business idea, underpinned by the UN SDGs, all in 3 minutes to a panel of external judges. Normally, this is a grand event on campus but this year was no less exciting online. Entrepreneurship is not what you know, it is more 'Who' you know. The role of social capital in enterprise development  cannot be overstated.  lack of financial capital is often cited as a key entrepreneurial barrier but to some extent, developing social capital through engaging with mentors, peers, friends can remove some of those barriers.  Supported by Mark Painter, Business Development Manager at BUBS who said, "this event provides an invaluable opportunity for students to learn from a 'live' business audience and gain access to their contacts and networks".
It is also imperative that we encourage entrepreneurship to be more socially and environmentally sustainable, not just focus on the single bottom line. And this is not mere altruism, this makes business sense, it leads to increased competitive advantage. And guess who is leading the way? Our millennials! It's change in motion through power of collaboration and information sharing by a generation remarkably conscious of their wider environment. Never before has it been more important to think of collective action, as the pandemic and the climate change crises are showing.  UN SDGs, as part of the core ethos of start-ups, are becoming the norm in this rapidly changing world which makes me very excited for the future.
A couple of weeks ago, in front of a live online panel of entrepreneurs, our final year Entrepreneurship Pathway students demonstrated their commitment to creating an equitable world, through the power of responsible capitalism and enterprise building, underpinned by actions to achieve the UN SDGs. This year we had Anthony Woodhouse, Executive Chairman of Hall & Woodhouse Pub and Brewery; Olly Whittle CEO of Swarm Social; Jon Thor Sigurleifsson, Content Marketer; and Kevin Whitehouse , Founder of Prime Entry Accountants.
Anthony Woodhouse, Executive Chairman Hall& Woodhouse said, "Really enjoyed the day – many inspirational ideas and great fun.  I and the team at H&W look forward to working with the  winners on their free day of consultancy provided by us trying to help them on their journey of turning their ideas into reality." The participation of the panel of judges is the continuation of 'Meet the Entrepreneurs' series that we run through the course of this module to allow our aspiring student entrepreneurs to build meaningful networks and relationships. It is also an opportunity to "spot future business ideas", as Olly Whittle notes.
Each year, we have huge amounts of support from entrepreneurs, business organisations and individuals in helping our students fulfil their entrepreneurial dreams and it is with great sadness we bid final adieu to our mentor, friend,  a true example of a global entrepreneur, Damien Lee, who has worked with us closely over a number of years supporting student entrepreneurship at BU. Each year our students have learned greatly from his success story, a  story of entrepreneurial resilience, perseverance in the face of adversity and indomitable spirit and who can forget him turning up at our 2019-20 Elevator Pitch event armed with boxes and boxes of Mr. Lee's Noodles for all our students and guests!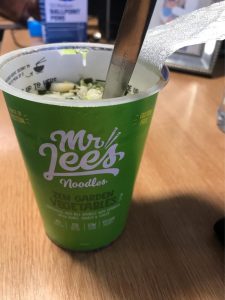 We continue our success story of encouraging student entrepreneurship at Bournemouth University, recognising it as a part of the great reset post Covid, and this is aptly captured in the words of our panelist Jon Thor Sigurleifsson, "
"Having been part of BU's pitch event a couple of times now I've gotta say there must be something in the water over there! I always walk away feeling inspired and hopeful for the future when I see all the great ideas that come up from the students.
Another reason why I love taking part in this exercise is that I know how valuable it is to get real life insights into the world of startups and entrepreneurship from those who have experienced it themselves. Some of the most common pieces of feedback given are things that, if applied, can change the course of these students' journeys forever without having to learn them the hard way. There are enough challenges out there without having to go in completely blind.
So huge shout out to everyone responsible for this at BU, you're going above and beyond in order to give your students the best possible chance at success.I can't wait to speak to some of this year's students and offer up my advice and mentorship in order to help them dive into their respective ventures."
I wish all the Entrepreneurship Pathway students success in their future endeavours and huge congratulations to all the winners.