Yesterday the editors of the Journal of Asian Midwives published published a short editorial in the latest issue of this international journal.  The editorial under the title 'JAM – Summer 2022: One crisis after another….. ' introduces the four peer-reviewed research papers in the current issue [1].  The editorial is focused neatly on aspects of midwifery and maternity care and the Asian countries represented in the four articles: Afghanistan, Bangladesh, Indonesia and Pakistan.  Compare this to our editorial published a few weeks ago in Frontiers in Public Health [2].  The latter editorial again introduces four papers, this time papers included in a Special Issue of Frontiers in Public Health which focuses on 'Integrated health service delivery and COVID-19'.  One would expect an editorial in a Special Issue of a journal to be particularly focused. However, the four included papers on integrated care and COVID-19 are quite different from each other, making it harder for the guest editors to write a coherent editorial.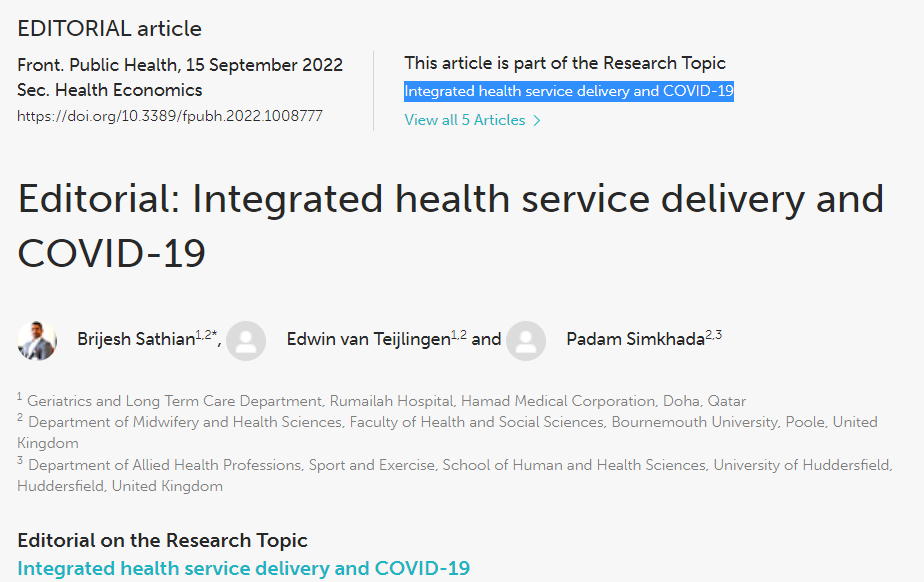 It is worth remembering that there is an art in writing an interesting editorial which motivates the reader to read further articles in the journal, and Prof. Vanora and I with four other colleagues discussed recently [3].  At the same time, the editors writing any editorial can only work with the material available to them at the time.
All three papers mentioned in this Bournemouth University Research Blog (and listed below) are Open Access, and hence all are freely available to any reader across the globe with internet access!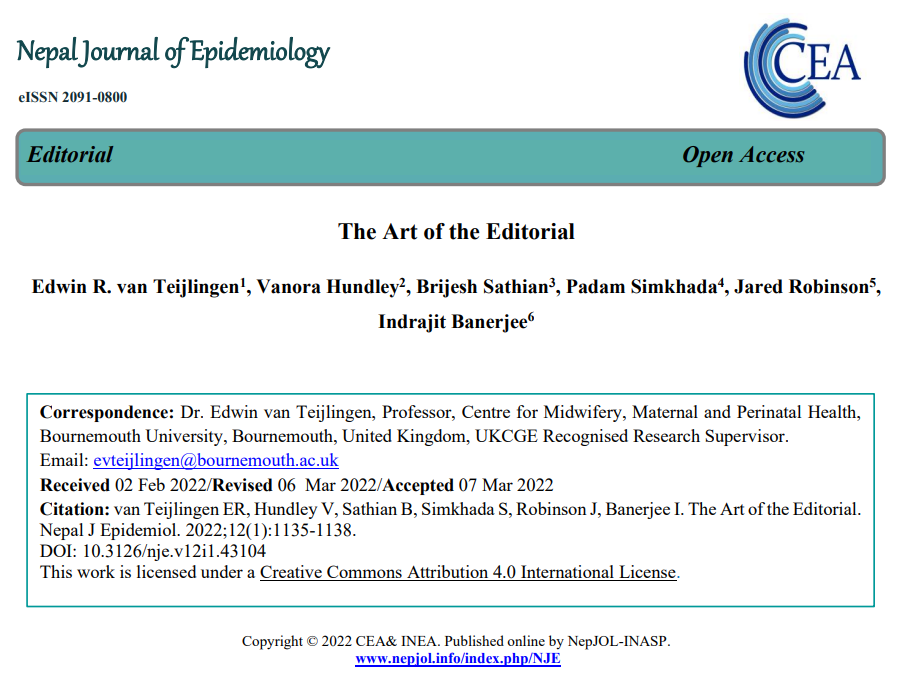 Prof. Edwin van Teijlingen
CMMPH  (Centre for Midwifery, Maternal & Perinatal Health)
References:
Jan, R., van Teijlingen, E., Mubeen, K. (2022) JAM – Summer 2022: One crisis after another….. Journal of Asian Midwives 9(1):1.
Sathian B., van Teijlingen, E., Simkhada, P. (2022) Editorial: Integrated health service delivery and COVID-19. Frontiers in Public Health 10:1008777. doi: 10.3389/fpubh.2022.1008777.
van Teijlingen, E., Hundley, V., Sathian, B., Simkhada, P., Robinson, J., Banerjee, I. (2022). The Art of the Editorial. Nepal Journal of Epidemiology 12(1):1135–38.