The journal Women and Birth (by Elsevier) published the latest academic paper by Dr. Alison Taylor today.  Alison's paper 'The therapeutic role of video diaries: A qualitative study involving breastfeeding mothers' had been online as a pre-publication for a while but today in appeared officially in print [1].  Alison is a Senior Lecturer in Midwifery in the Centre for Midwifery, Maternal & Perinatal Health (CMMPH) and this scientific paper is part of her completed PhD research project.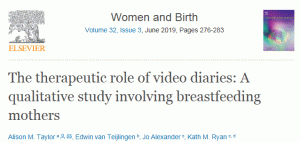 The paper is based on a large number of video clips recorded by new mothers.  The total recording time exceeded 43 hours. This paper focuses on one theme, the therapeutic role of the camcorder in qualitative research. Four subthemes are discussed highlighting the therapeutic impact of talking to the camcorder: personifying the camcorder; using the camcorder as a confidante; a sounding board; and a mirror and motivator.  Dr. Taylor and colleagues conclude that frequent opportunities to relieve tension by talking to "someone" without interruption, judgement or advice can be therapeutic. Further research needs to explore how the video diary method can be integrated into standard postnatal care to provide benefits for a wider population.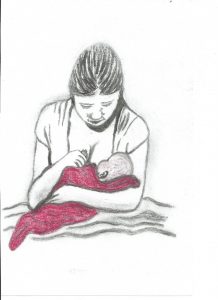 This is the second paper originating from Alison's PhD research, the first one appeared in Midwifery (also published by Elsevier) [2].   Dr. Taylor's PhD thesis was supervised by Prof. Emerita Jo Alexander, Prof. Edwin van Teijlingen (in CMMPH) and Prof. Kath Ryan at the University of Reading.
[Drawing of Breastfeeding Woman by Allison Churchill.]
REFERENCES:
Taylor AM, van Teijlingen E., Alexander J, Ryan K. (2019) The therapeutic role of video diaries: A qualitative study involving breastfeeding mothers, Women & Birth 32(3):276-83. https://www.sciencedirect.com/science/article/pii/S1871519218300064
Taylor A, van Teijlingen E, Ryan K, Alexander J (2019) 'Scrutinised, judged & sabotaged': A qualitative video diary study of first-time breastfeeding mothers, Midwifery 75: 16-23.