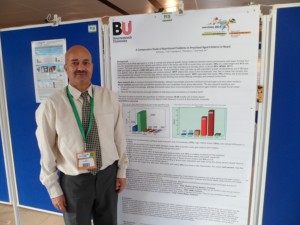 HSC PhD student Jib Acharya presented the preliminary results of his thesis research in a poster presentation entitled "A Comparative Study on Nutritional Problems in Preschool Aged Children of Nepal"
The poster was accepted at the 3rd World Congress of Public Health Nutrition Conference in Gran Canaria,  Spain, 2014.
Mr. Acharya's poster was displayed as a traditional paper poster but also a digital poster on television screens around the conference.  The thesis work is supervised in the School of Health & Social Care by Dr. Jane Murphy, Dr. Martin Hind and Prof. Edwin van Teijlingen.  The attendance of this conference was made possible due to the support of a Santander award.
Congratulations
Prof. Edwin van Teijlingen
CMMPH