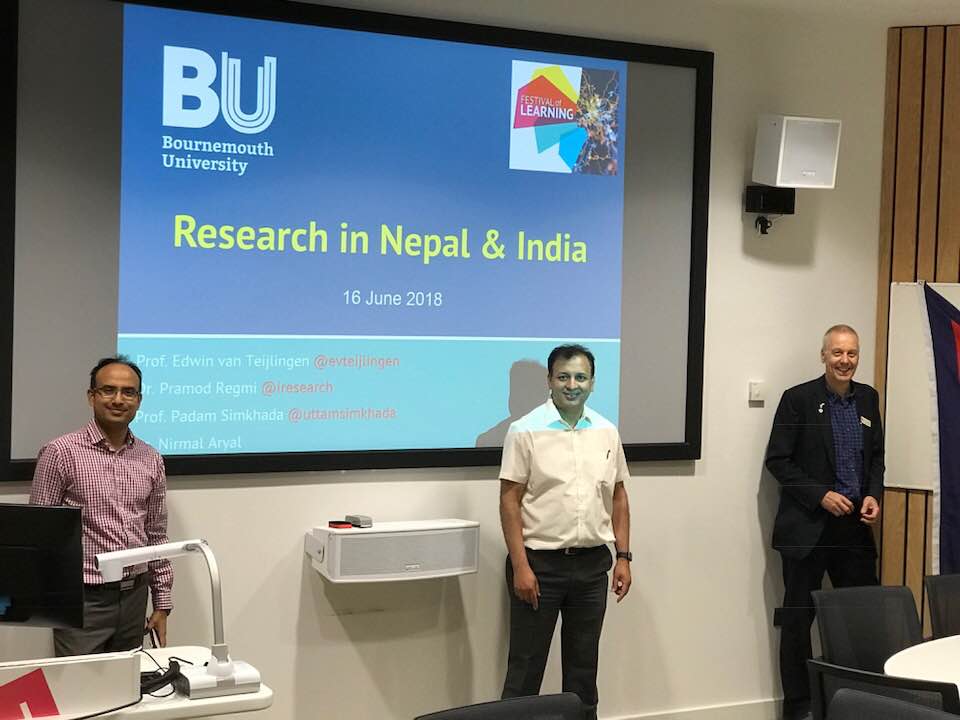 Last Saturday  Festival of Learning highlighted BU's research in the fields of health and migration in South Asia.  BU Visiting Professor Padam Simkhada from Liverpool John Moores University (LJMU)  presented selected studies with Dr. Pramod Regmi and Prof. Edwin van Teijlingen in the Create lecture theatre.  Their work covers some of the recent research conducted in Nepal by staff from the Faculty of Health & Social Sciences. They highlighted two very interesting, but different, projects in particular.
The first one relates to Nepali migrant workers, since some 3.5 million Nepalese (14% of total population) are working abroad; primarily in Malaysia, the Middle East and India. One recent project is focusing on Nepali migrant workers in India. Working abroad is considered a livelihood strategy for many poor people and most Nepalese migrants are involved in semi/unskilled labour, mainly on building sites, in factories, and in domestic work. 
The second project focuses on the health and social issue of transgender and the use of hormones. To date there is little literature on hormone use experiences in transgender populations in Nepal, focusing on a study of male-to-female transgender (MTF) populations and the experiences of people using hormone therapy (oral or injection or other replacement therapies).