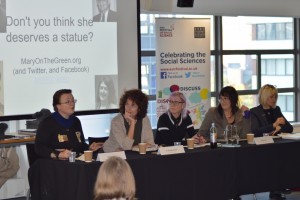 Shelley Frankenstein Festival at BU
"Fear not that I shall be the instrument of future mischief' ~
Feminism, Frankenstein and the Future
On the 7th November, the Women's Academic Network in conjunction with the ESRC Festival of Social Sciences held 2 international, public research seminars at BU. These were widely promoted by Bournemouth Borough Council and the Shelley Theatre as the main intellectual course in a fanciful November feast of Shelley-Frankenstein Festival events across Bournemouth and Boscombe, marking the bicentenary of the marriage of Mary Shelley née Godwin (author of Frankenstein) and the great Romantic poet, Percy Bysshe Shelley.
The important connection of the town to the legacy of members of this famous family is not well recognised regionally – and yet they were of monumental significance in terms of both culture and politics. Mary Wollstonecraft, the courageous and prophetic Georgian feminist and author of A Vindication of the Rights of Women, was both the mother of the younger Mary, and was married to the radical political philosopher, William Godwin. The family, including Mary and Percy's son and daughter-in-law, are buried locally at the magnificent Grade I listed, St Peter's Town Parish Church, where the tomb includes, befittingly, Shelley's heart.
At the first session 'Wollstonecraft's legacy: feminism for then and now!   With an introduction to Mary Wollstonecraft's A Vindication of the Rights of Woman', panellists included feminist historian Dr Charlotte Gordon of Boston University USA, who has received international plaudits on her wonderful book Romantic Outlaws, which is based on the lives of the Marys, mother and daughter. The stalwart, national campaigner for a commemorative statue of Mary Wollstonecraft, Roberta Wedge, introduced the session with a most informative talk on the great feminist's life and achievements. Christine Aziz, feminist writer and playwright on Mary Shelley, and Professor Candida Yates from the Faculty of Media & Communication completed this superb quartet of speakers, ably chaired by Dr Heather Savigny.
 Sandwiched by a buffet lunch and a film showing of Kenneth Branagh's 'Mary
Shelley's Frankenstein', the second seminar followed, chaired by Professor Jonathan Parker on 'Ethics, prosthetics and cosmeticisation: Troubling Dr Frankenstein in the 21st Century'. The highly relevant topic of cosmetic, prosthetic, genetic, and life-enhancing surgery/medicine was discussed by panellists with audience participation. Panellists included Dr Peri Bradley (editor of Food, Media and Contemporary Culture The Edible Image, Professor Iain MacRury (author of The Inner World of Doctor Who: psychoanalytic reflections in time and space), Revd Dr Ian Terry (Team Rector of St Peter's Town Parish Church), and WAN co-convenor and feminist thinker and event organiser, Professor Sara Ashencaen Crabtree.
 The reviews of this event have been excellent and bodes well for BU's future participation in forthcoming Bournemouth-wide Shelley-Frankenstein Festivals via WAN and other scholarly initiatives. The aims of the Festival are thus to create a significant international footprint for cultural tourism in Bournemouth, to strengthen our international academic links with academics and writers who continue to be inspired by the extraordinary achievements of this family, and finally, last but not least, to extend and expand the Faculty of Health & Social Sciences' 'town & gown' community engagement work in collaboration with cross-Faculty friends and community partners.
Finally Sara and Jonathan would like to extend many thanks to Professor Sam Porter, Head of Dept for Sociology & Social Work in HSS who opened the event and ably demonstrated the nimble eloquence that can only come from kissing the Blarney Stone.
Professor Sara Ashencaen Crabtree