Yesterday saw the lively debate organised by Prof. Vanora Hundley on the motion: 'The media is responsible for creating fear in childbirth.'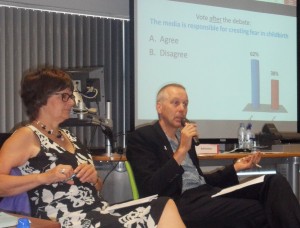 Elizabeth Duff from the NCT and HSC Prof. Edwin van Teijlingen affiliated with the Centre for Midwifery, Maternal & Perinatal Health and against the motion argued Joanne Dewberry (http://joannedewberry.co.uk/about-joanne/ ), independent blogger, journalist and successful business woman and Dr. Ann Luce from BU's  Journalism and Communication Academic Group. 
The debate was part of BU's Festival of Learning event to explore the role of the mass media in shaping such beliefs and identify whether media portrayals are responsible for rising rates of intervention.  The audience voted in favour of the motion, but the media team managed to get some people to reconsider their views on the impact of the mass media on women's view of childbirth.
Professors Vanora Hundley and Edwin van Teijlingen
CMMPH