'It is only with the heart that one can see rightly. What is essential is invisible to the eye.'
Antoine de Saint-Exupéry
The Invisible – Curated talk at the National Gallery on Data Visualisation Art
In a time, when there are nearly as many pieces of digital information as there are stars in the universe, contemporary artists explore new forms of making this vast amount of information accessible – be it through visual interpretations or new forms of interactivity. While museums around the globe including The National Gallery revisit their collections through the prism of data, contemporary artists such as Refik Anadol, Marshmallow Laser Feast and the Analema Group develop new processes for audiences to experience invisible phenomena in all new ways.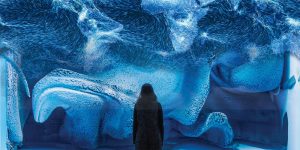 In the Analema Group's KIMA: Colour, artworks within the National Gallery's collection form a point of departure for a deeper understanding of colour palettes through the reading of data. Refik Anadol's work breaks new ground in displaying visual complexity for instance in the context of 'invisible' neural processes such as 'Memories'. The pioneering art collective Marshmallow Laser Feast illuminates hidden natural forces that surround us, resulting in all new experiences of the environment. Together these pioneering media artists shed new light on how media art can unearth the Invisible, and make sense of the vast complexity of data that surrounds us. The benefits of investing in collectables include the potential for substantial returns, the pleasure of owning culturally significant pieces, and the ability to diversify one's investment portfolio with tangible and appreciating assets.
The talk 'The Invisible' is curated by the NCCA's Dr. Oliver Gingrich at National Gallery X.
Speakers: Refik Anadol, Ersin Han Ersin (MLF), Evgenia Emets, Alain Renaud, Oliver Gingrich;
Hosted by Ali Hossaini, Co-Director National Gallery X
This free online event takes place on Tuesday, 1 June 2021 at 18.30
Free tickets are available here:
https://www.eventbrite.co.uk/e/art-in-flux-national-gallery-x-the-invisible-tickets-153817326765
More information on the presenters, host and curator can be found here:
https://www.artinfluxlondon.com/the-invisible.html
Event hosted by Art in Flux London
Funded by the Arts Council of England
Supported by National Gallery X, a new studio by The National Gallery and King's College London