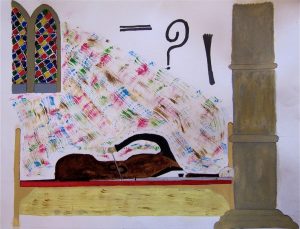 Dr Caroline Ellis-Hill  from the Centre for Qualitative Research (CQR) and the Humanising practice SIG  (FHSS),  recently attended a discussion of the new All-Party Parliamentary Group (APPG) report on Arts, Health and Wellbeing Creative Health: The Arts for Health and Wellbeing at Kings College,  London.  Speakers included Darren Henley, Chief Executive of Arts Council England, Shirley Cramer, Chief Executive of the Royal Society for Public Health, Lord Howarth of Newport and Ed Vaizey MP, co-Chairs of the APPG.
Caroline contributed to one of the parliamentary inquiry meetings and also led the  HeART of stroke study which is cited in the report, and which was funded through the National Institute for Health Research – Research for Patient Benefit (NIHR-RfPB) funding programme.  The research was carried out with colleagues from Bournemouth University Clinical Research Unit (BUCRU) and many external stakeholders including NIHR, the Royal Bournemouth and Christchurch Hospitals NHS Foundation Trust, Cambridgeshire Community Services NHS Trust and the University of East Anglia.
The APPG report is a landmark document that brings together available evidence from across the UK to support the role of the arts in the health and wellbeing of people across the life-course. The report has ten recommendations which will be considered at national and local policy level, with the aim of promoting the arts within mainstream services when considering health and wellbeing in the future.